MIRO'S GREEN IMPACT
According to a recent study that MOSS executed with the University of Wageningen (MOSS Lab 1.0) we calculated the
effects of different volumes of green on employee well-being.

Three scenarios were tested:
0% had no effect
0.5% most common in office spaces, offers little effect
8% what MOSS strives for in projects, has the most effect
When we consider the surface area and height of the spaces within Miro I, we know that there are around 8,000 cubic meters of volume. Comparing that to the volume of indoor living plants, we know that about 0.5% of the total volume of Miro I is green.
In the case of Miro I, there were some limitations due to the heritage of the building. So we had to increase the volume of greenery in certain areas by creating "green nodes" such as the botanical library!
"Workers exposed to plants report a 15% higher level of well-being, are 6% more productive, and are 15% more creative" (Interface 2015).
GENERAL INFORMATION
The Miro I Concept
Miro collaborated with interior architects, MMoser, to create a space that puts nature, technology and innovation at the forefront of the design. MOSS contributed by designing and implementing the "green layer" for the indoor space and more importantly enhancing the health of not only the building but the users of the spaces.
Below is a diagram that shows Miro-specific zones and the most suitable green typology for each area. Typically, a workspace would use a lower impact form of greenery to avoid distractions, whereas a collaborative zone may have a custom element with a higher and a more diverse range of plants.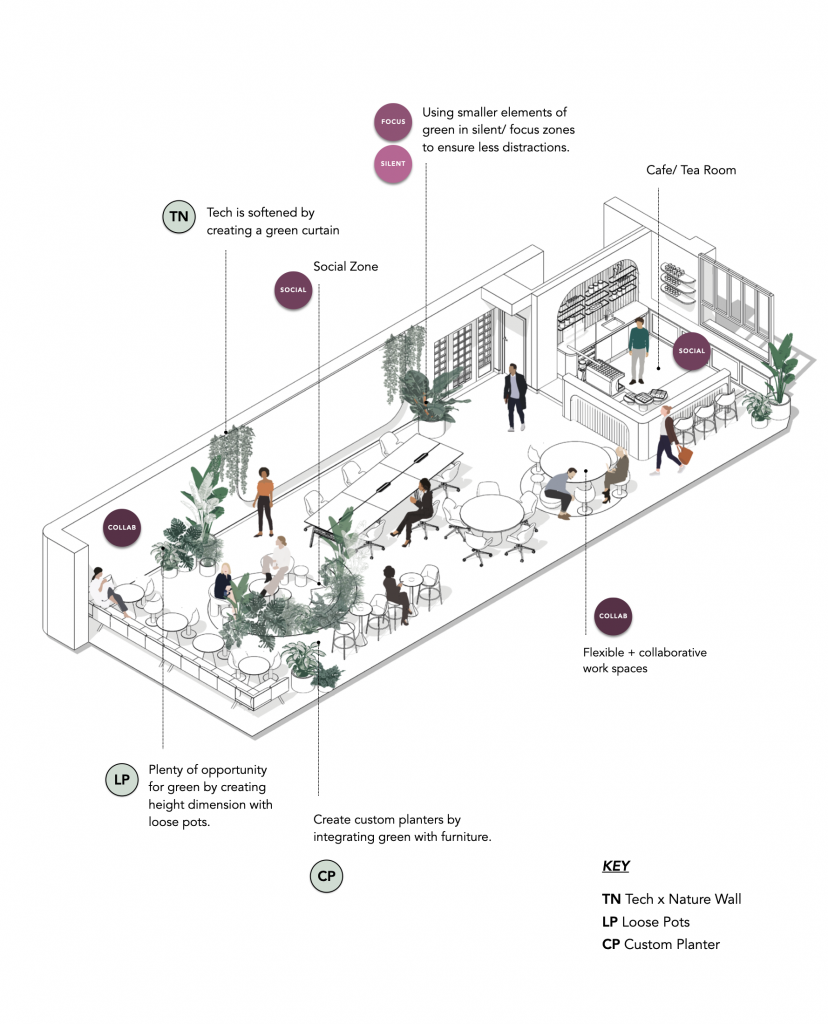 Overall purpose of the green design by MOSS at the Miro I Campus:
– Increase well-being
– Improve acoustics
– Encourage collaboration
– Ensure feasibility
What about the plants?
The plants are the stars of the show and have been carefully selected for each planter and each location, depending on the microclimate of that specific plant in the building. MOSS works with a range of tropical plants for their indoor spaces as the conditions allow them to thrive all year round if looked after properly.
Maintenance
Do not worry about maintenance – we have got you covered! The green maintenance party, Koninklijke Ginkel Groep, comes often to ensure all plants are happy and thriving.
THE GREENERY SURVEY
Please help us continue our efforts in understanding the value of green by filling out the survey below.
WHO IS MOSS/ WHAT CAN MOSS OFFER?
"From grey to green; making cities resilient, liveable, healthy and enjoyable again".
Makers of Sustainable Spaces (MOSS) was established in 2013 and offers a comprehensive approach to green design with 10 years of experience in projects ranging from tropical indoor gardens, and intensive green roofs to urban agriculture projects.