07 Oct

Design Case Study: A biophilic workspace
Transforming a conventional workspace with biophilic principles
by Jagrit Vij
Nature is an eternal source of inspiration for humankind. Even a small interaction with the environment outdoors has the ability to renew your senses and to rejuvenate your mind. With the office environment becoming more time stressed and people spending more time on the work floor again, short breaks in nature can motivate you to become more productive, while boosting your general well-being. But how often do we actually connect with nature during a busy day?
The COVID-19 pandemic transformed our lives in many ways. In one way it offered us the comfort of our homes and gave us the opportunity to reflect in nature. Although we enjoyed more time with our families, we missed out on having social encounters with our colleagues. We were in our safe environments, but in most cases it lacked a focus zone to work in silence. Additionally, we all missed the possibility to brainstorm or meet with clients in a creative setting.

Impressions of remote working — Illustration by MOSS.  
Post pandemic, returning back to our workplaces, our vision for a balanced workspace has clearly been altered. Therefore, as we return back to normal, it is essential to find a blend between our previous working models and arising post-covid needs. It is a perfect time to rethink our office spaces.
FROM HYBRID WORKING TO BIOPHILIC REMODELING
Hybrid working models involve a combination of office and remote work. Although these models have proven to be beneficial, they still lack a few elements to live up to our post pandemic needs. Generally, we need to shift from being solely venue focused to a more health and well-being focused model. The integration of biophilic elements into the workspace can help bring the required change we all need. So, how can nature based interventions provide a solution?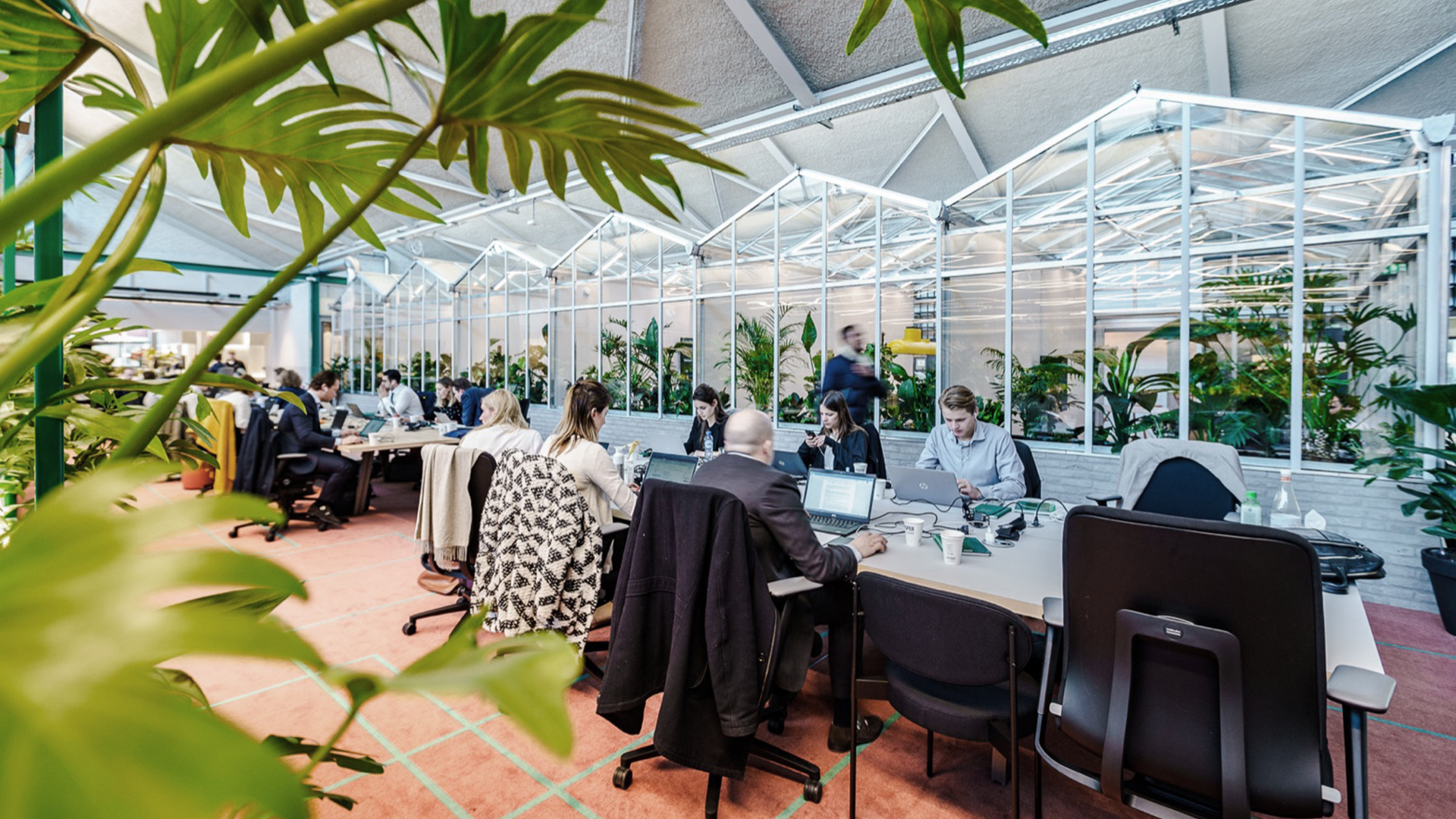 Photo Credits: CBRE Netherlands — CBRE The Core — Green design by MOSS.
"Time spent among trees is never wasted time" – Katrina Mayer
Since the advent of civilization, nature has always had a strong impact on our prosperity and development. As a result, humans have always tried to capture its essence through its incorporation into and around built spaces. Our dwelling spaces planned around open courtyards as well as the innumerable garden typologies are a manifestation of the same idea existing across diverse scales, yet all aimed at our wellbeing. 
The fact that a thorough interaction with nature is experienced only when all our physical senses get stimulated, testifies the importance of all the diverse elements of a natural landscape. Integrating these stimulatory elements indoors and connecting people to nature is known as Biophilic Design. 
There is indisputable research that shows humans prefer the natural environment over the built.(1) In a working environment, being in close proximity to nature not only enhances employee satisfaction but even promotes productivity, creativity and well-being of an individual. A study called "The relative benefits of green versus lean office space" found that people who worked in biophilic workspaces saw a 15% rise in productivity over a three-month period. It also stated that the presence of plants inside a building increases the feelings of well-being in humans by 40%. (2) 
There are many reasons why biophilic remodelling can contribute to a better and more balanced working environment, so why don't we bring nature to the workspace and make that state permanent? So how do we bring biophilic design into practice? How does biophilic remodelling impact the look and feel of our standard work space? In the next alineas we will explore this by showing a hypothetical design case study, where the landscape of a valley was taken as metaphor. 
THE LANDSCAPE OF A VALLEY AS OUR INSPIRATION
Biophilic design is much more than just placing potted plants in a space. In the next section of this blog, we preface the transformation of an existing office space into a sphere endorsing safe human interactions, focused work, and creativity within a health-promoting oasis.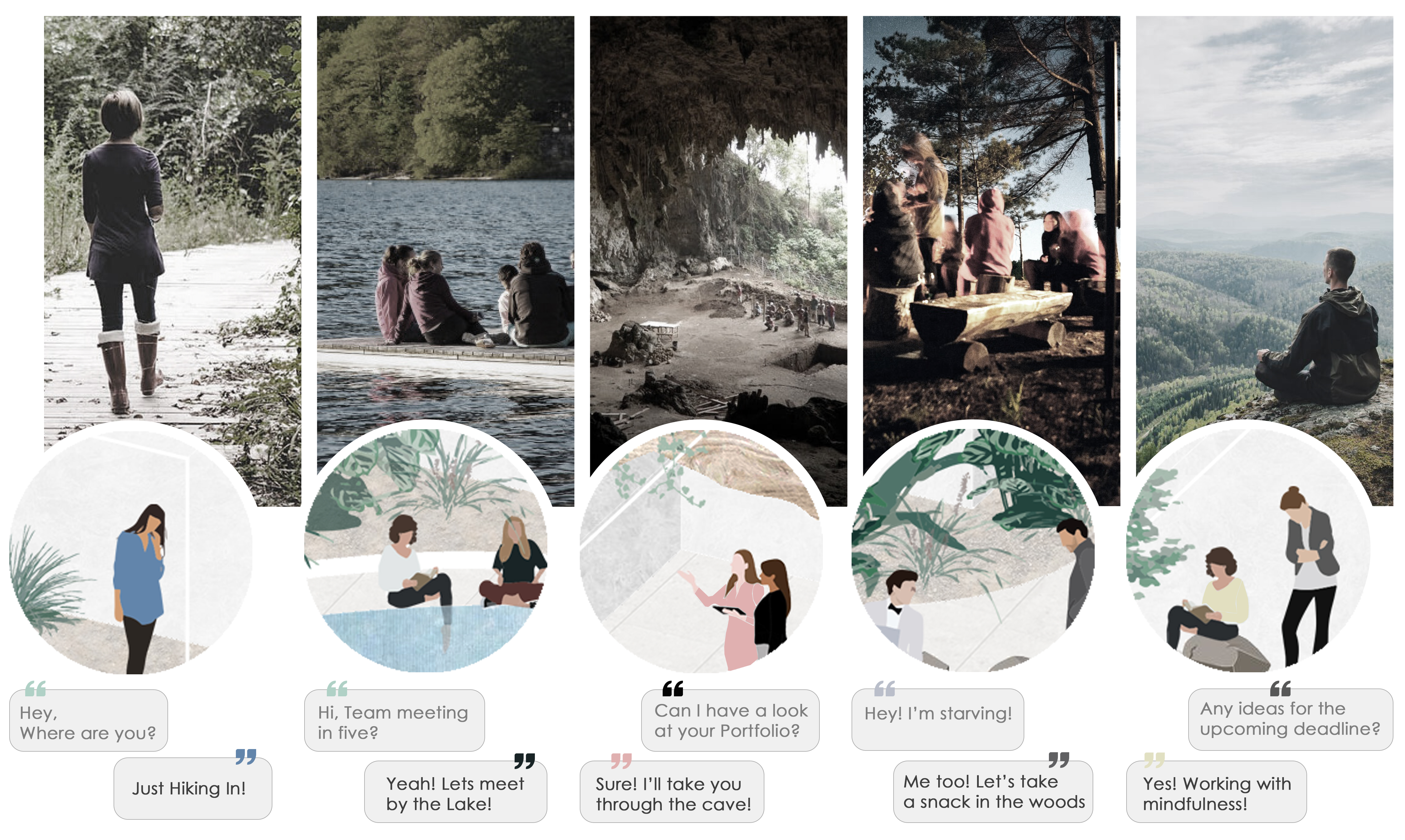 The expressions around nature — Illustration by MOSS. Image sources 1-5 (3)
An effective biophilic design needs to be inspired by a natural setting which could enhance the user's sensory experiences. Thus, the image of a typical valley inspired the design idea for this case study with all its natural elements – trails, waterbodies, woods, cave formations and even a pinnacle. We have interpreted, abstracted, and translated the components of a valley into the design of a new interior working space. The goal of this study is to explore the possibilities of weaving these feelings of human interactions with nature into an indoor space.
Imagine having a refreshing meeting by the lake everyday, or an inspiring picnic with your colleagues in the woods. We want to translate these positive feelings of being surrounded by nature into your daily tasks.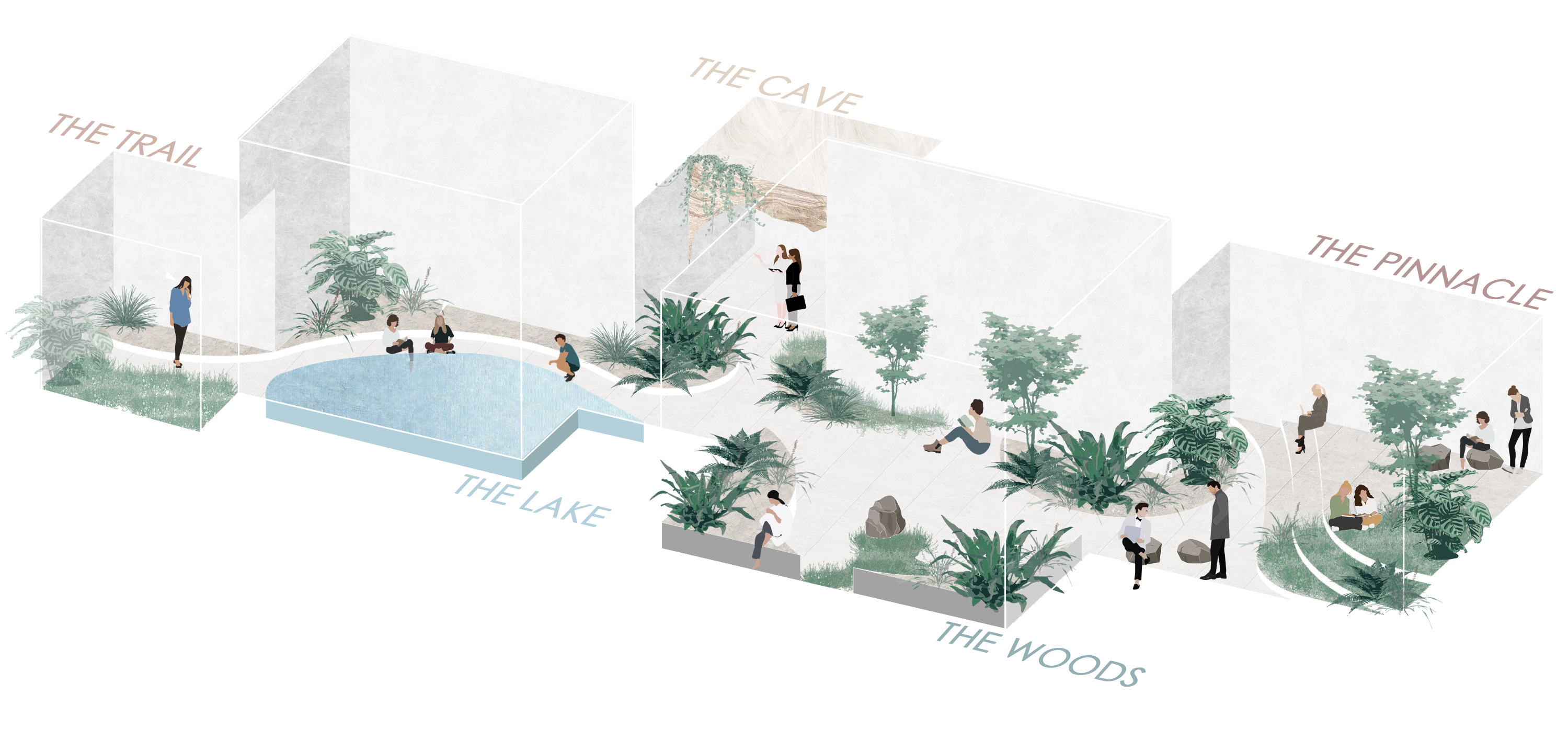 Weaving the nature indoors — Illustration by MOSS.
In this design case study, we take a section of a typical valley landscape and incorporate its natural components into an office space. We make this connection by understanding the emotions and expressions of people as they explore a valley.
The Trail – daily pathway into the office
The Lake – the meeting area
The Cave – a display area for clients
The Woods – break out area/casual meeting space
The Pinnacle – the workspace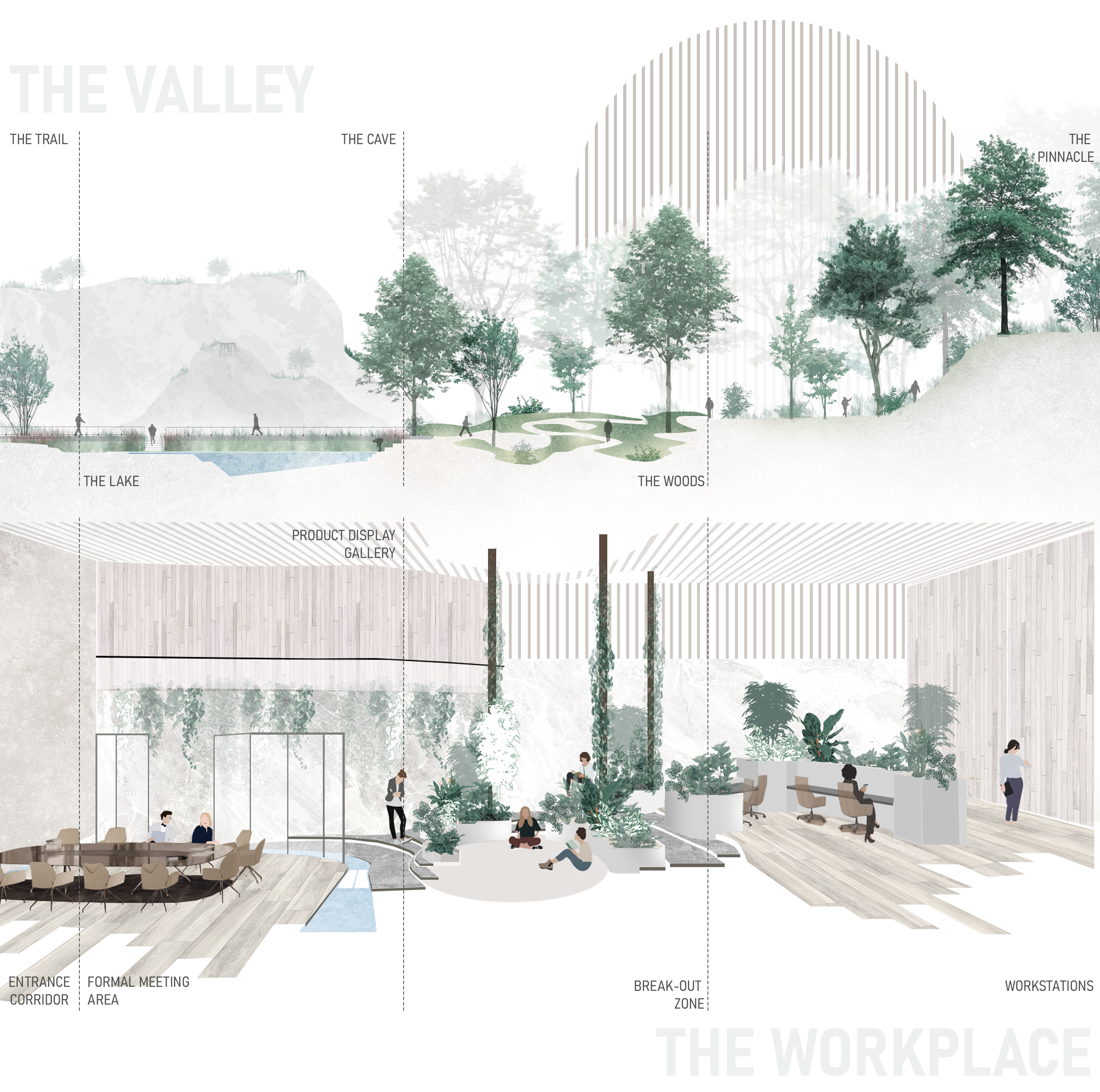 Sectional synchronization of elements in a valley to the workspace — Illustration by MOSS. 
TRANSFORMATION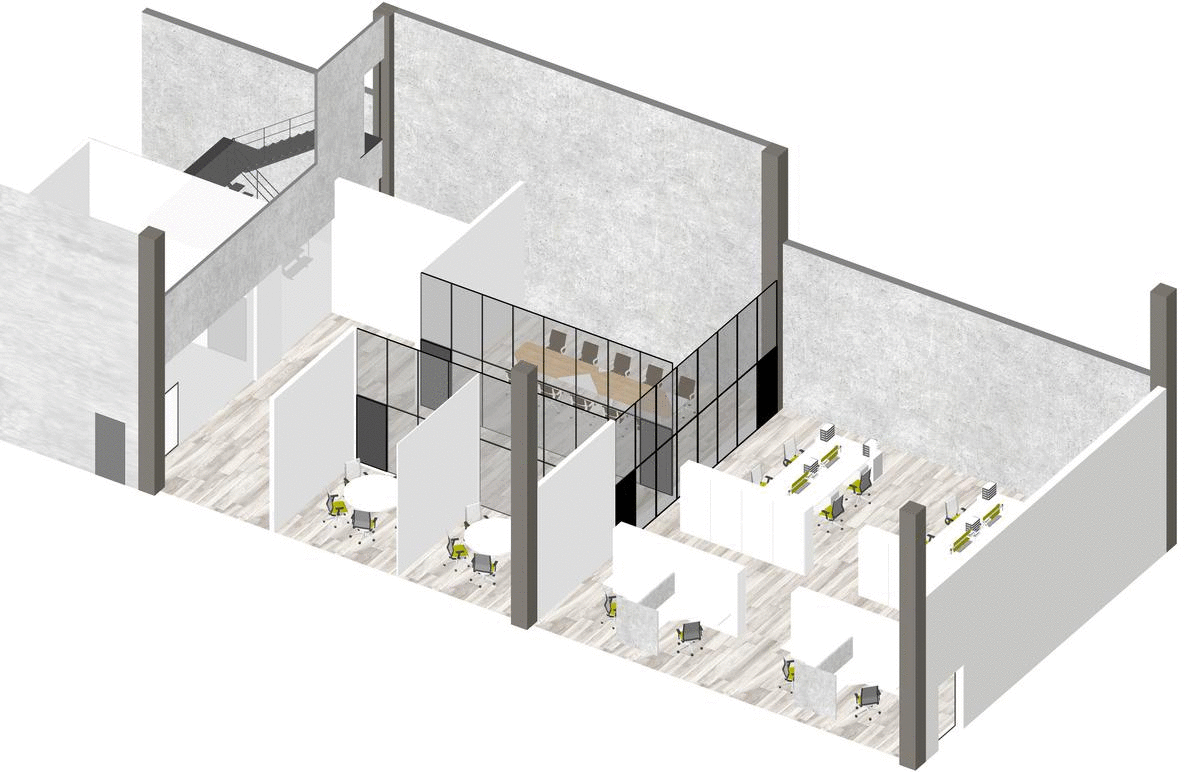 Stages in Transforming a workspace using biophilic principles — Illustration by MOSS.
Above you see the result from the transformation of a conventional rigid workplace into a nature based office space, remodelled using the following biophilic design principles:

Biophilic design principles — Illustration by MOSS.
We have further specified a few viewpoints in the design to explain the implementation of the used biophilic design rules further.
Viewpoint 1: The entrance – The hard opaque partitions are replaced by planter podiums. This not only eliminates the feeling of being in a confined space but also invites more natural light indoors. The organic arrangement of the podium reciprocates the feeling of being in an outdoor setting.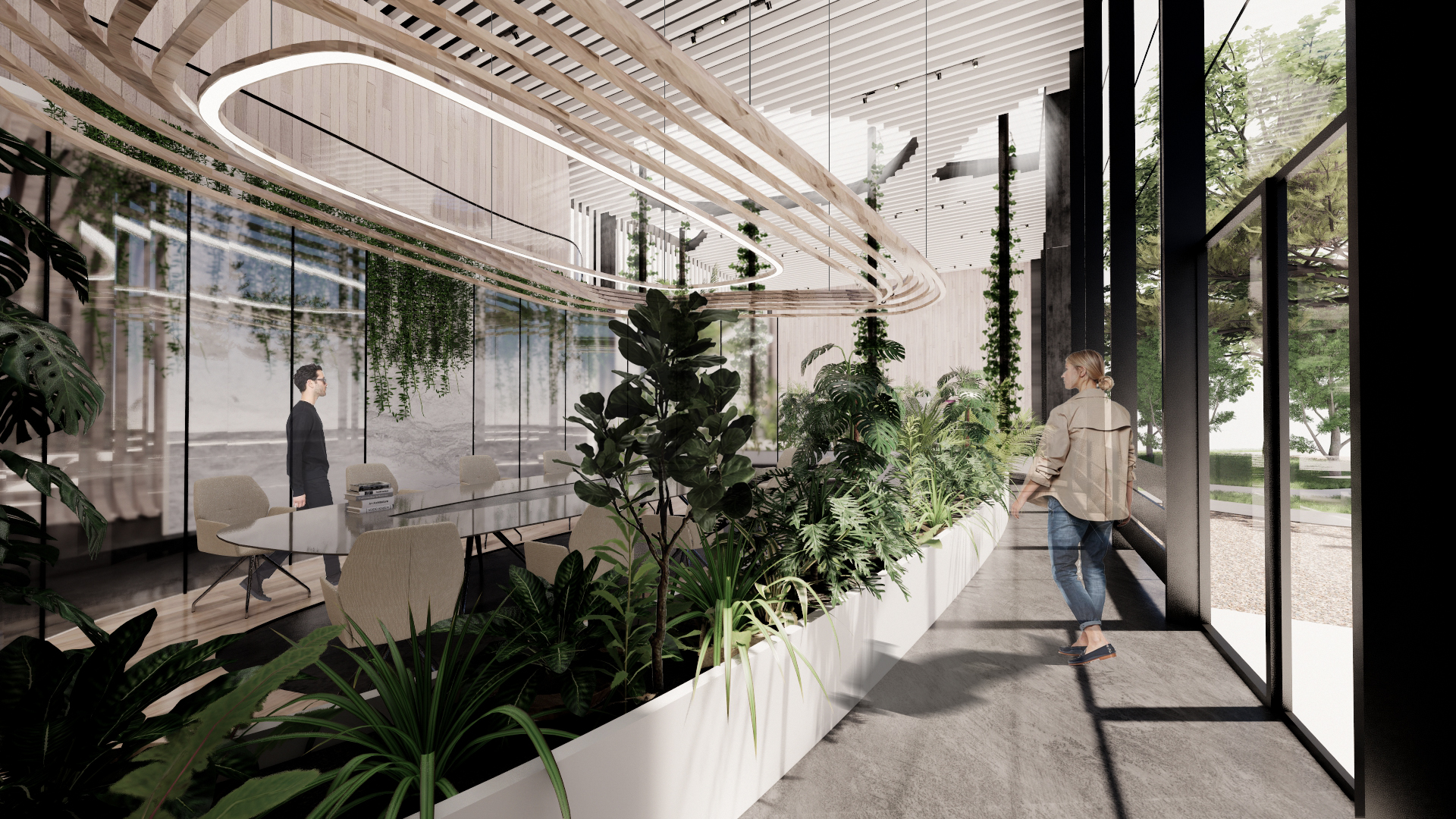 The entrance — Rendering by MOSS.
Viewpoint 2: The interactive meeting area – Natural elements other than plant life have been introduced to surprise the users in coherence to a nature walk. The meeting area is circumferenced by a waterbody which evolves feelings of tranquility whereas the product display gallery has been inspired by cave formations providing a transitional space.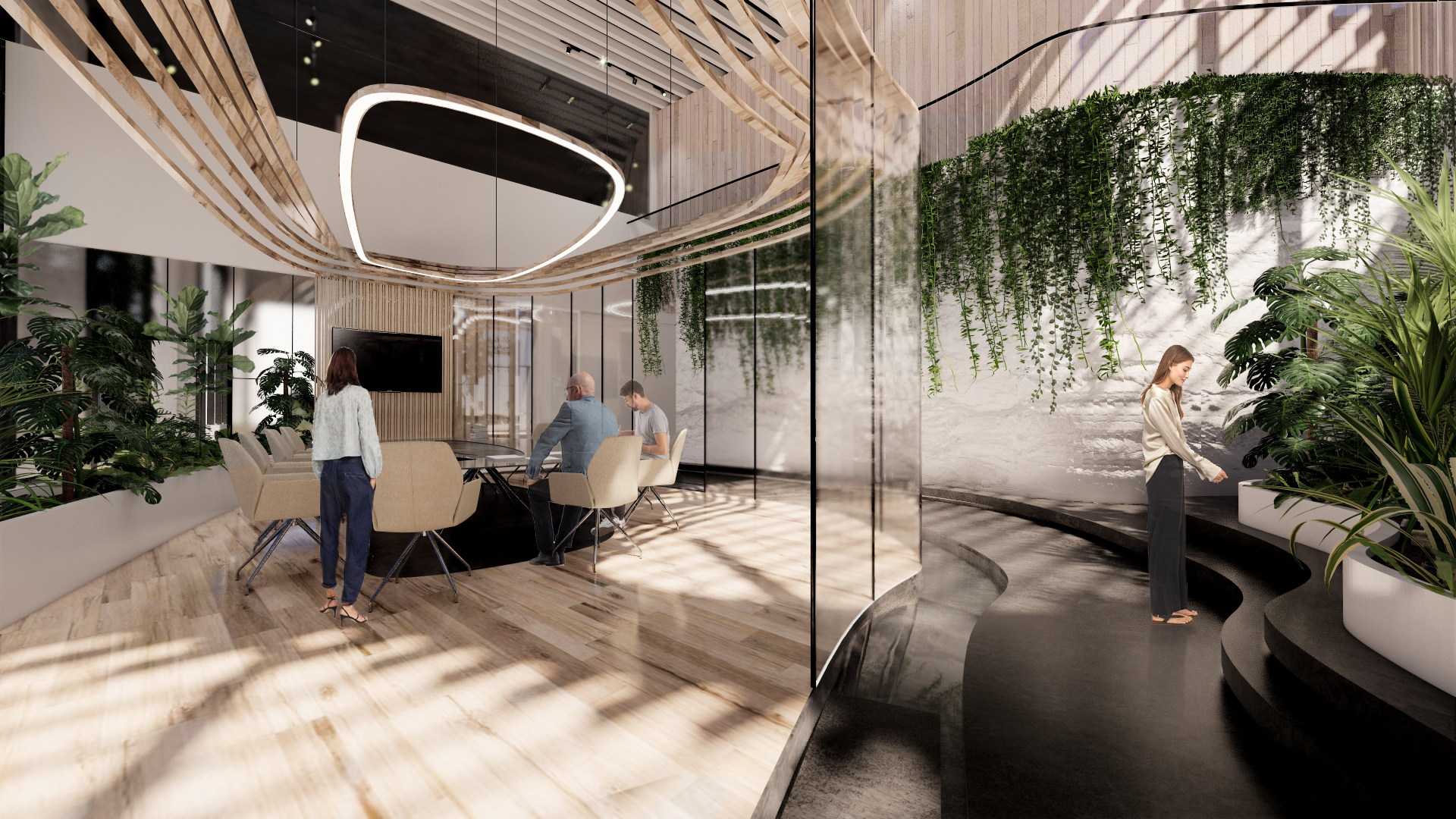 The interactive meeting area — Rendering by MOSS.
Viewpoint 3: The walkways – The pathways mimic trails of a forest allowing freedom of movement to the users. Imitation of contour lines and terrain helps to establish a strong feeling of being in a valley. Additionally it eliminates the possibility of crossing another individual, as one would in a corridor multiple times.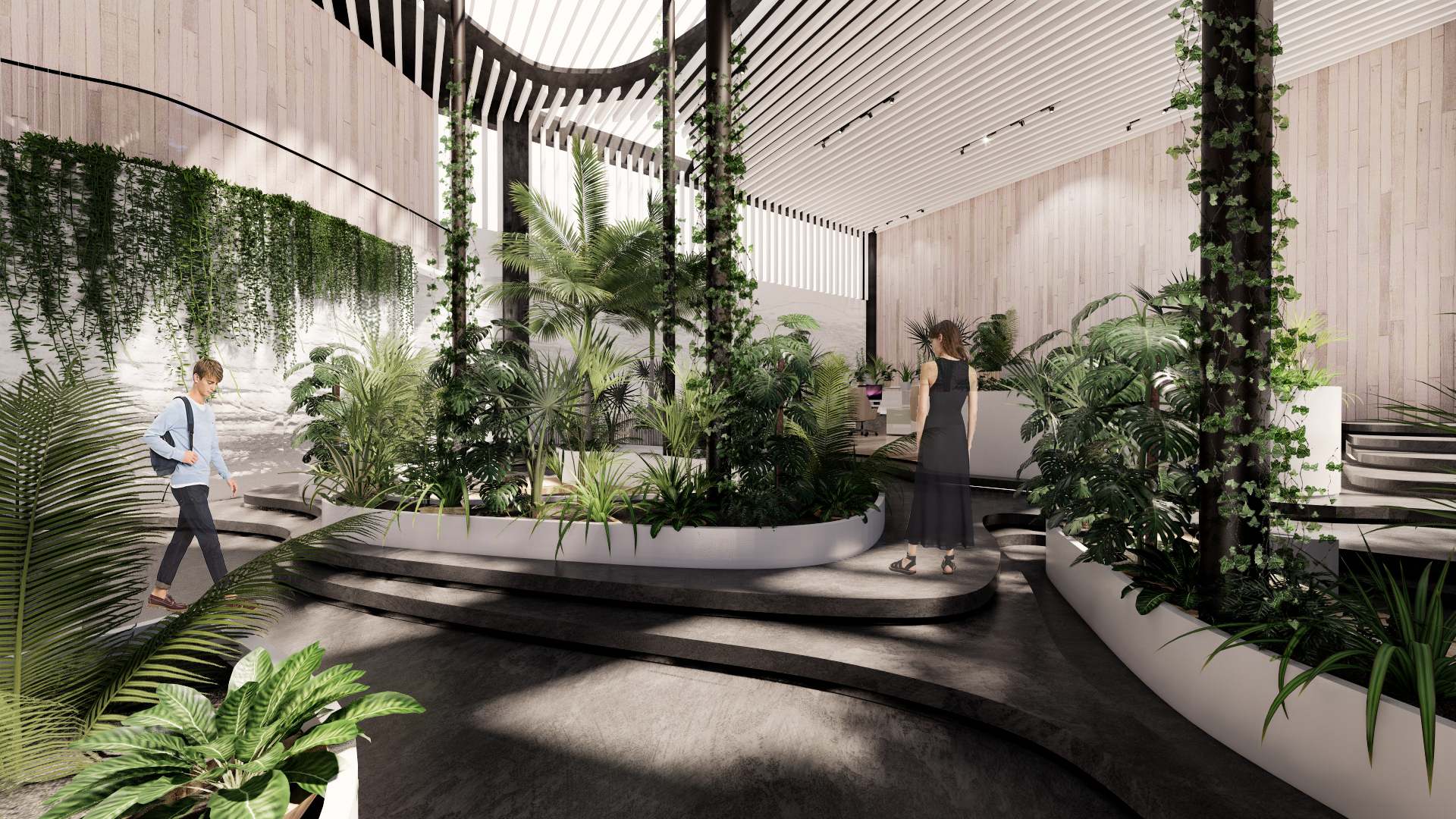 The walkways — Rendering by MOSS.
Viewpoint 4: The creative break-out zones – The break out zone is a metaphor for dense woods and becomes integral to the office as it forms a pivot point in circulation. It forms a collaborative space to serve a small informal meeting or even individual tasks.  
The creative break-out zone — Rendering by MOSS.
Viewpoint 5: The focused workspace – The workstations are spread out and enveloped by planter arrangements containing diverse types of plants. The compositions help to keep the employees motivated and creative. The green perimeters also ensure a quiet working environment. This zone is the pinnacle at the highest level for the innovators with view lines to all the natural elements scattered across the built volume to get inspired from.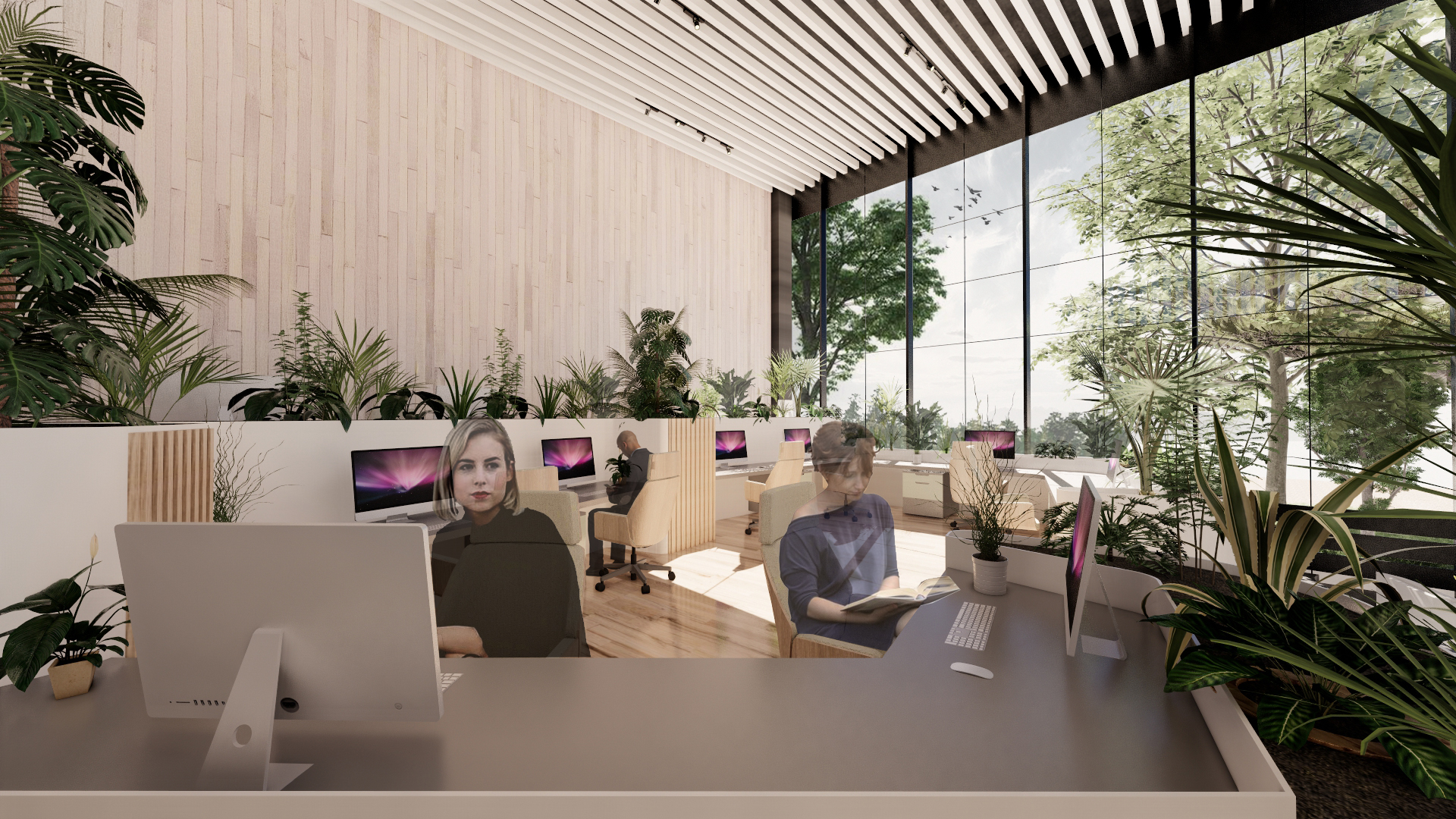 The focused workspace — Rendering by MOSS.
CONCLUSI

ON
Transforming an existing space with biophilia will not only shape a healthy and vibrant work culture, but will also increase awareness towards the environment. While decreasing absenteeism and improving staff productivity, a biophilic office design can have motivating impacts on business too. Therefore many employers are now keen on revamping their workplaces with nature inclusivity.
It is fundamental to know that various possibilities can occur when we initiate the thought about creating a space inspired by natural elements. Conceptually and technically, we can achieve surprising results if we start designing spaces like this in the first place. So why don't we?
"It is the long history of humankind (and animal kind, too) that those who learned to collaborate and improvise most effectively have prevailed." – Charles Darwin
We invite you to reach out and learn more about this vision and the learnings of our design case study, and explore the opportunity to collaborate with us in designing better, healthier, and greener spaces.
SOURCES
Seymour V. The Human-Nature Relationship and Its Impact on Health: A Critical Review. Front Public Health. 2016 Nov 18;4:260. doi: 10.3389/fpubh.2016.00260. PMID: 27917378; PMCID: PMC5114301.

Nieuwenhuis, M., Knight, C., Postmes, T., & Haslam, S. A. (2014, July 28). The Relative Benefits of Green Versus Lean Office Space: Three Field Experiments. Journal of Experimental Psychology: Applied. Advance online publication. http://dx.doi.org/10.1037/xap0000024

Image 1 – Source Unknown; Image 2 – Photograph by @lmallo (Source –

www.twenty20.com

); Image 3 –

Liang Bua Cave, where the remainings of Homo floresiensis were discovered in 2003 [Credit: Rosino/WikiCommons]

; Image 4 – Source Unknown; Image 5 – Photograph by SergeyCash (Source – www.myloview.pl)