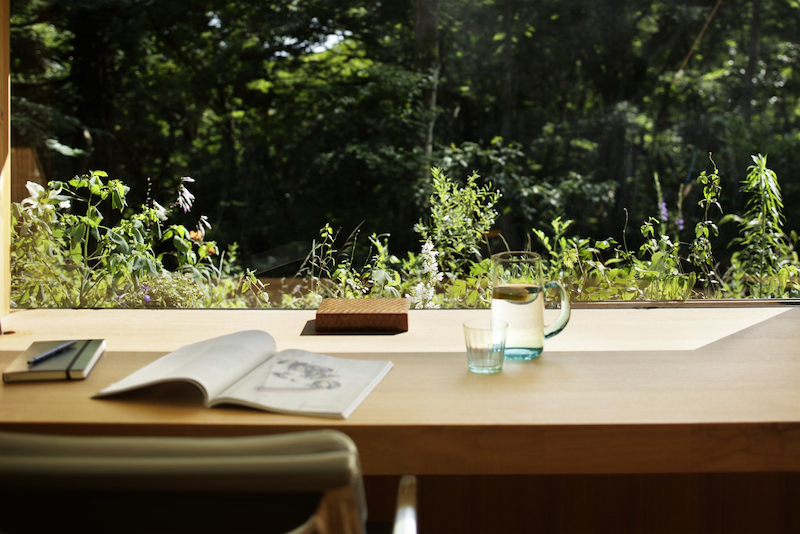 09 Feb

3 Main Ways Biophilia Revolutionizes Business

by Kelai Diebel

Did you notice that more plant purchases were made this last year than ever before? Inspirited by a growing body of evidence that biophilic elements have a positive effect on well-being, we see how biophilia affects our perception of space and drives business. 
GROWING OUT OF THE PANDEMIC
For many people around the world, plants have been a way to connect with nature during the lockdown. Since mid-march 2020, there's been a spike in plant sales for both homes and offices. It could be a result of cabin fever, extra time on hand, Instagram influencers, or it could be a way to bring four confining walls to life. One thing we are all finding is that nature brings comfort in troubling times.
Plants give people the opportunity to pull away from the computer. Considering that most of us spend 60% of our waking hours working and that well-being is a critical factor to productivity, this article dives into the phenomenon of biophilic and nature-filled work environments.

Dozens of studies were compiled to highlight the bottom-line values on workers' performance (1). These four factors stand out to be the most impactful on productivity.
Biophilic design focuses on establishing contact with nature in the built environment. In doing so, biophilic design mimics nature and incorporates living plants in a way that can benefit our well-being by helping us to reduce stress and ultimately carry out our days with clearer thoughts. 
Scientific research backs up our affinity for nature, too. Workers exposed to plants in their daily work lives report a 15% higher level of well-being, are 6% more productive, and are 15% more creative (2). Strategic designs with certain plant species, sizes, and growing mediums have also been proven to reduce noise (3) and create a less stressful environment.
3 FORMULAS OF BIOPHILIA 
The first way that biophilia impacts us related to how planted spaces reflect the natural world and thereby support human physiology (4). The natural environment demands less directed attention and encourages more free-flowing brain functions (5). In other words, exposure to nature relieves fatigue and enhances concentration as it resets our attention span.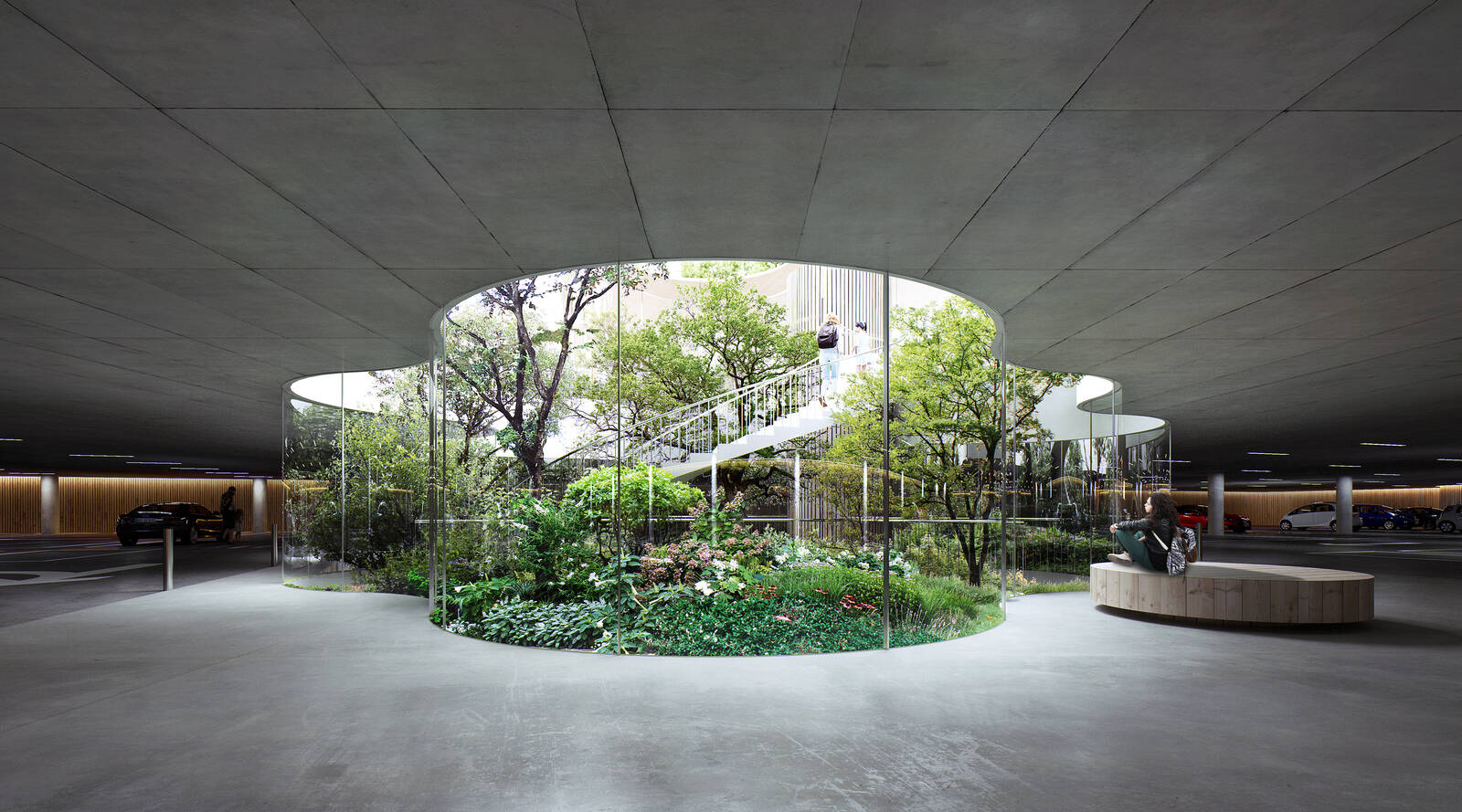 Photo Rasmus Hjortshøj – COAST
– And into the woods I go, to lose my mind and find my soul. –  John Muir
The second way points to the value of enrichment, in terms of how workplaces are designed and managed. Studies show that people who work in offices with plants report feeling better about their job and the work they performed (6). Enriching the workplace with living green signals that attempts are made by management to enhance staff well-being (6). This gives employees the sense that 'management is on our side" and in turn, leads to increased attention and engagement. 
The third way is that when indoor plants are introduced in significant quantity, there is a perceived positive impact on air quality. We know that while examined in air-tight domes and laboratories, plants filter out hundreds of pollutants, lower CO2, and stabilize humidity. In every-day buildings, however, where open windows, air conditioning, and the flow of people all factor in the air quality, the actual impact of plants on the air is nearly imperceptible. Still, studies find that people working in environments that are enriched with plants reported that air quality improved (7). 
HAPPY AND HEALTHY STAFF AS THE KEY TO THRIVING BUSINESS
To think any firm would subject their employees to a building that would negatively impact their health or work performance is absurd. Biophilic and nature inclusive workplaces, on the other hand, are like human resource tools that can attract and retain talent. People are more aware than ever about the spaces they occupy, and given the 'new normal', workers will be more and more selective about their offices, too.
In JLL's 3-30-300 rule of thumb, per square foot per year, an average company spends $3 on utilities, $30 on rent, and $300 on the payroll. So, a 10% increase in energy efficiency would yield $0.30 savings per square foot, a 10% decrease in rent would save $3, and a 10% gain in productivity is worth $30. Strictly speaking, workplaces that boost productivity drive business.

Staff is the most valuable resource in companies, typically accounting for 90% of business operating costs, so even a small improvement in productivity can have a major impact on the bottom line and competitiveness of any business.
Feeling good often equates to being able to do more. If re-establishing a connection to nature at work generates a 6% increase in productivity, that equates to a $39 per square foot savings per year, or €348 per square meter! 
Adding on to that, reducing rates of presenteeism while raising morale go hand in hand to well-rounded business and result in higher value for companies. Considering this along with the evidence that green workplaces yield happiness, wellness, and performance, the power of continuing the individual's connection with nature in the day-to-day workplace is utterly immense.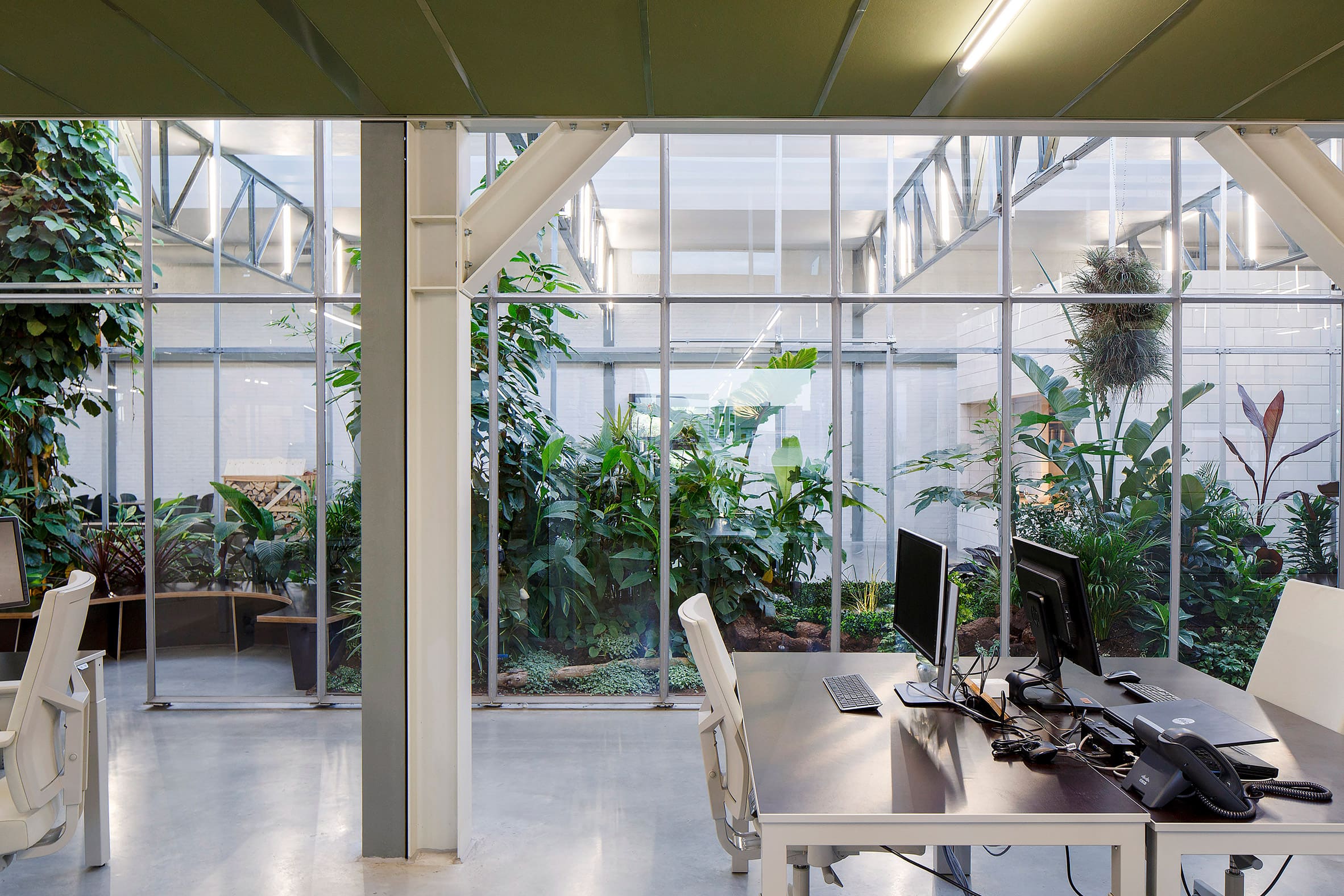 MOSS designed a green workplace oasis together with Space Encounters at the JOOLZ Headquarters in Amsterdam.
MOSS & BIOPHILIA
Ultimately, research shows that bringing nature indoors results in a positive outcome for employees and businesses. Understanding the range and complexity of factors that can impact employee productivity, happiness and well-being are key for organizations aiming to prioritize performance initiatives. 
Today our design decisions are for human and planetary health. Our role as designers is to create empowering environments and at MOSS, we do this through the extraordinary phenomenon of biophilia. 
Are you interested in getting to know more about the power of biophilia, or are you eager to collaborate with us? Reach out to our team at info@moss.amsterdam to get involved.
SOURCES
World Green Building Council. (2014, September).

Health, Wellbeing & Productivity in Offices

. 

Interface. (2015).

The Global Impact of Biophilic Design in the Workplace

. Www.Humanspaces.Com. 

Horoshenkov, Kirill & Khan, A. & Benkreira, Hadj. (2013). Sound absorption by living plants. 3. 2247-2254. 

Nieuwenhuis, M., Knight, C., Postmes, T., & Haslam, S. A. (2014, July 28). The Relative Benefits of Green Versus Lean Office Space: Three Field Experiments. Journal of Experimental Psychology: Applied. Advance online publication. http://dx.doi.org/10.1037/xap0000024

(Appleton, 1975; Balling & Falk, 1982; Kaplan, Kaplan, & Brown,1989; Orians, 1980; Orians & Heerwagen, 1992; Ulrich, 1983, 1986).

Vischer, J. C. (2005). Space meets status. Abingdon, UK: Routledge.

Dravigne, A., Waliczek, T. M., Lineberger, R. D., & Zajicek, J. M. (2008). The effects of live plants and window views of green spaces on employee perceptions of job satisfaction. HortScience, 43, 183–187.

Khan, A. R., Younis, A., Riaz, A., & Abbas, M. M. (2005). Effect of interior plantscaping on indoor academic environment. Journal of Agriculture Research, 43, 235–242.