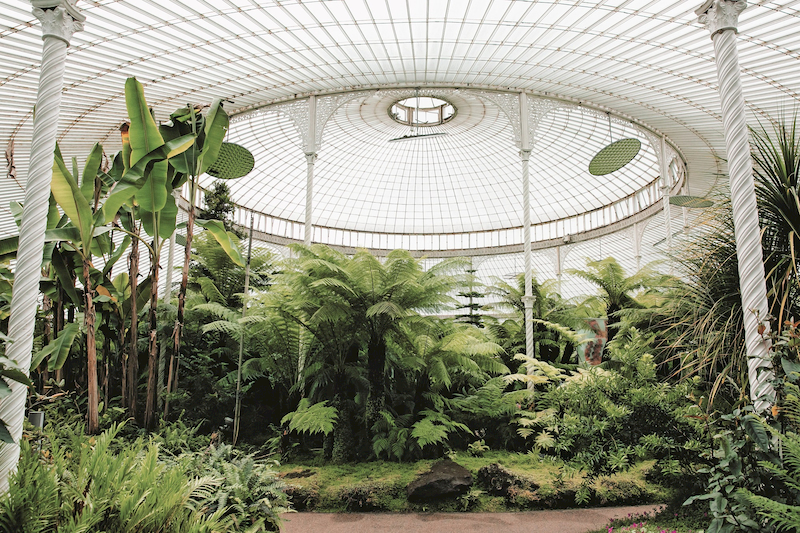 20 May

The World of Biodomes

by Ela Cestar

Since the dawn of humanity we've had a complex relationship with nature. Through the control of fire, the rise of agriculture and the growth of our civilisation, we've been moulding the Earth's environment to suit our needs. We try to control it. We try to protect it. We depend upon it. And we try to understand it. But could we recreate it?

Taking what we know about the planet and what we need to survive, could we replicate the earth's ecosystems? Well, back in the late 1980s, a group of scientists attempted to do just that.
A MODEL FOR GLOBAL ECOLOGY ON PLANET EARTH.
In the middle of the Arizona desert lies a 12700m2 (3.14 acre)  research facility that was designed to mimic earth's complex natural systems. This giant greenhouse building is known as Biosphere 2. In case you're wondering what Biosphere 1 is, you're living on it—planet Earth. 
Biosphere 2 was thought up in the early 80's with this notion that there was a lot of discussion about space travel and extended stays in space. The challenge was, how are we going to do that? 
In 1987, a private organisation, Space Biosphere Ventures, headed by billionaire and environmentalist Ed Bass, spearheaded and designed the construction of Biosphere 2. The project hoped to demonstrate the feasibility of space colonisation by recreating the earth's ecological systems inside of an artificial habitat.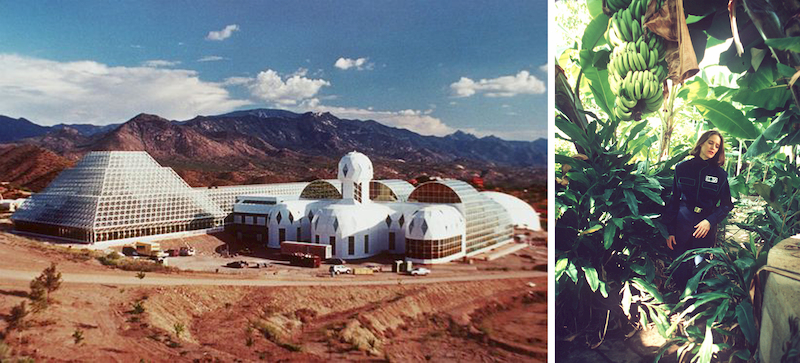 Biosphere 2 complex in 1991. Image by John Miller/Associated Press
THEY INTENDED BIOSPHERE 2 TO BE COMPLETELY CLOSED, SELF SUFFICIENT SYSTEM, LIKE THE EARTH'S OWN BIOSPHERE, WHERE PLANTS, ANIMALS AND HUMANS COULD LIVE INDEFINITELY.
In fact, it was the largest closed system ever constructed and one of the most ambitious and complex earth science experiments ever conceived. 
In September of 1991, eight people were sealed in Biosphere 2. Known as Biosphereans, they would live inside the structure for a full two years. All their food, water and amenities had to be obtained from the habitats inside the biosphere. They would have no direct contact with the outside world for the entire length of their stay. 
Almost right away, things started to go wrong on Biosphere 2. One of the first things they began to notice, the oxygen levels started to decline. About halfway through this first two-year mission, it got so low that they had to add oxygen because they were concerned for the safety of the individuals inside. Along with the oxygen loss, Biosphere 2 experienced a number of other problems, including massive plant and animal die-offs.
THE BIOSPHEREANS HAD DIFFICULTY GROWING AND HARVESTING ENOUGH FOOD TO FEED THEMSELVES AND WERE CONSTANTLY HUNGRY.
This contributed to morale problems causing a rift in the group and split them into two factions. And these problems, along with the abrupt resignation of the project's scientific advisory board, seemed to confirm the view that the biosphere was just for show and not actual science. (1) 
The faith of the project was uncertain. A lot of people like to say that it was a failure, yet no experiment is a failure. It's an experiment on a grand scale, which never been attempted before and it's engineering is absolutely amazing. But what did they learn? In my opinion the single most important lesson is how little we truly understand Earth's systems. 
Biosphere 2 is designed to contain five biomes or habitats – a rainforest, an ocean, a savanna, a mangrove wetland, and a fog desert, along with the agriculture area and living quarters. Although people don't live in the Biosphere anymore, the ecosystems are still thriving and have been growing for over 20 years.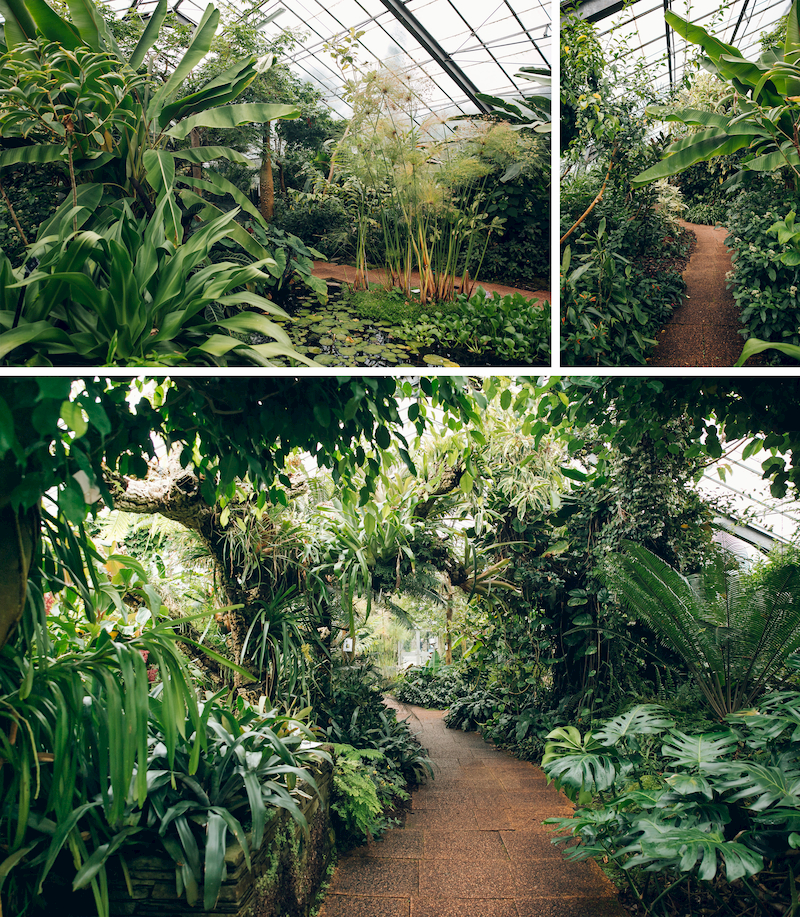 The University of Dundee Botanic Garden. Image by Haarkon
Today, the biosphere has been appropriated to fit different means. Now, its aim is to test exactly how changing environmental conditions will affect our Earth. These range from minute to severe changes in Earth's climate, and how they might manifest in Earth's flora and fauna.
ALL ABOUT BIODOMES
So if it wasn't feasible to live inside a sealed biodome in 1991 for two straight years, what is exactly a biodome, and what can they achieve today?
A biodome is a large controlled internal environment in which plants and animals, from much warmer or colder regions than the region of the biodome, can be kept in the natural conditions of their own sustainable ecosystems. It is a scientific based form of a greenhouse that can be made up of various geodesic spheres, although it's not always the case.
A biodome creates a perfect environment for plants, animals and insects and it allows you to learn the behaviour of all different kinds of plants and ecosystems. It also saves money, energy and water because of its regenerative nature.
The plants do not suffer from burning, or receiving too much or too little of a certain nutrient, as the biodome is not tampered with or exposed to the outside environment. Plants grow quicker here than seedlings exposed to harsh weather, they are stronger and more resilient than plants on the outside.
THREE WORDS ACCURATELY SUM UP THE MISSION OF THE BIODOME: EDUCATION, CONSERVATION AND RESEARCH.
Huntington Garden Conservatory – Los Angeles. Image by Haarkon
Through educational activities, day camps, nature interpretations and publications targeting the general public and school groups, the Biodome promotes a collective awareness of the environment. The conservation of plant and animal species is equally important. 
THE BIODOME IS INVOLVED WITH HELPING ENDANGERED SPECIES TO RECOVER AND PRESERVING NATURAL ENVIRONMENTS
Biodome researchers work to advance knowledge and participate in various biodiversity and sustainable development projects. For example in the Montreal Biodome they've made several discoveries, including that of a new species of mite. Additionally, researchers are trying to solve problems associated with urban wildlife such as the beaver, which has become increasingly invasive in populated areas. (2)
There are many benefits that a biodome provides to plants and animals and you can notice the positive effects, but there are also some negative ones:  in most cases trees and other plants need to be shipped all over the world to be able to fill out the Biodome. How sustainable is that? Shipping is by far the world's most efficient form of transport but, because more than 90% of the world's traded goods travel by sea, it still has a major environmental impact. The environmental impact of shipping includes air pollution, water pollution, acoustic, and oil pollution. It also includes greenhouse gas emissions. 
Large biodomes are architectural wonders. While the designs have much in common with the geodesic domes patented by Buckminister Fuller in 1954, there have been more recent innovations in building materials that have made the enormous light-friendly roofs in biodomes and other architectural projects possible. (3)
One example of a biodome would be the Eden Project in the United Kingdom which includes one of the largest biodome greenhouse in the world.
EDEN'S PROJECT – THE GREAT GARDENS OF CORNWALL
The Eden Project is a sprawling structure built along the side of a deep clay pit. The structure comprises three biomes, areas designed to represent three distinct climates found around the world.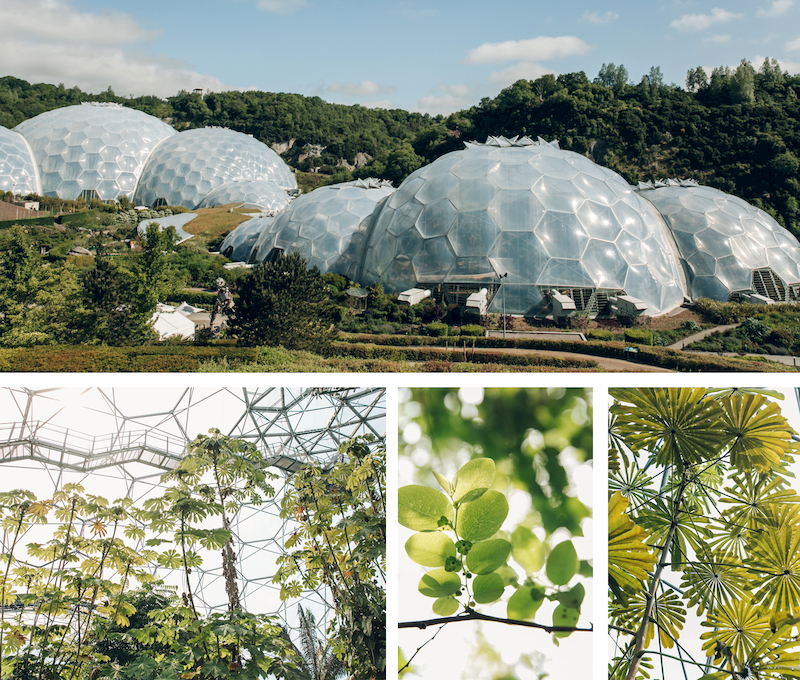 The Eden Project. Images by Haarkon
The Humid Tropics Biome, the most impressive section, is a multi-domed greenhouse that recreates the natural environment of a tropical rainforest. The warm, humid enclosure houses hundreds of trees and other plants from rainforests in South America, Africa, Asia and Australia.
From the Humid Tropics Biome, visitors move on to the Warm Temperate Biome. The Warm Temperate Biome houses plants from temperate rainforests around the world. Like tropical rainforests, temperate rainforests receive a high volume of rainfall every year, making them an ideal environment for varied plant life. The Warm Temperate Biome at the Eden Project has varied plant life from temperate rainforests in Southern Africa, the Mediterranean and California.
The final stop in the Eden Project is the Roofless Biome, an open area with varied plant life from the temperate Cornwall area, as well as similar climates in Chile, the Himalayas, Asia and Australia. Visitors can learn about plants that have played an important role in human history by following nature trails that wind over 30 acres (12 hectares) of land.
THE CREATORS OF EDEN PROJECT SEE THE SITE AS FAR MORE THAN A COLLECTION OF GREENHOUSES
Their mission statement is to "promote the understanding and responsible management of the vital relationship between plants, people and resources, leading towards a sustainable future for all." To this end, they have included informational kiosks and artistic installations throughout the biomes. They also hold a number of workshops and special events, all designed to inform people about environmental issues. (4)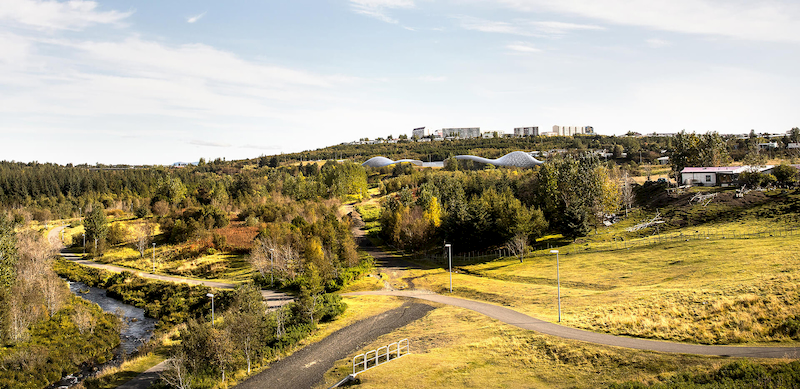 ALDIN Biodome. Image by WilkinsonEyre
The nation of Iceland is building the world's first geo climate biodome. By combining geothermal and vertical farming technologies in a resort-style biodome, this new Reykjavik project will seek to reconnect people to nature in new and exciting ways, combining the experience of tropical temperatures, with a farmers' market and an agricultural laboratory. Aldin will be a hub for minds and thoughts, a space for a healthy community to meet, shop, relax and socialize.
ICELAND'S BIODOME – AMBITIONS AS A WORLD LEADER IN GEO CLIMATE TECHNOLOGY
In Reykjavik–where the sun barely rises over the horizon in the winter, temperatures hover around freezing, and streets are often covered in snow and ice–one entrepreneur plans to build a tropical oasis: a renewably powered biodome filled with plants, hammocks, and an urban farm.
This creation of a geo climate biodome is a vision unique to Iceland; one rooted in its natural resources and geology, with its cultural history of socialising in geothermal environments, and technology that already supports some of the largest greenhouse fruit plantations in Europe. Drawing on these precedents, the project will harness locally available natural resources, including hot spring water and fertile volcanic soil to create a lush, verdant oasis beneath a glazed dome, right in the heart of the capital region. (5)
ALDIN WILL BE A HOME OF NATURE CELEBRATION.
Most interesting of all is that through its pioneering of geo climate technology, ALDIN will also be the first carbon neutral biodome found anywhere in the world. By simultaneously breaking both of these two records, it will also serve as 'a showcase for the very best of Icelandic ideas, design and ingenuity'. Comparisons might be drawn here to Victorian London's Crystal Palace, which sought to inspire awe and to exhibit the art of the possible in the nineteenth century, but with the twenty-first century distinction of improving sustainability and quality of life in the local area.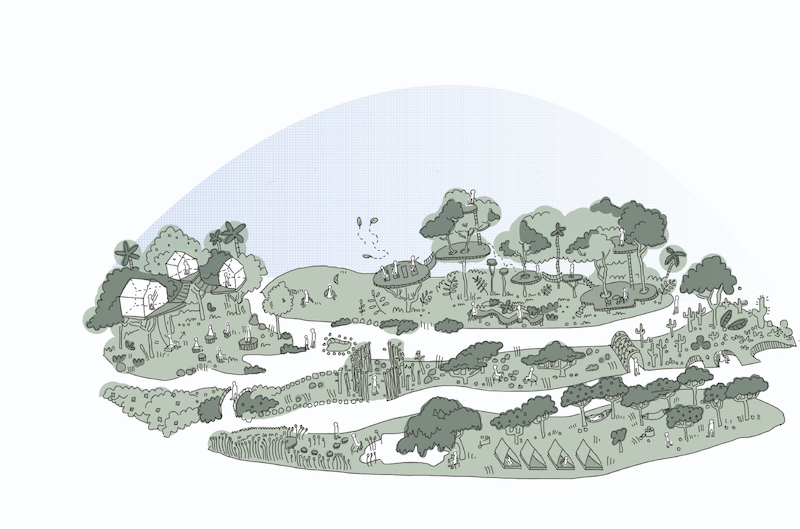 ALDIN Biodome. Concept Illustration of  the Temperate Dome by MOSS
Another outcome of this environmentally-conscious approach is that ALDIN Biodome aims to have one of the lowest operational and energy costs for this type of attraction anywhere in the world; an arguably noble goal. The verification of this will be crucial to success though, as it will be constructed and operated in line with some of the most ambitious sustainability standards in the world, including BREEAM and WELL Building certification.
Developed on the site of a natural hot spring, ALDIN Biodome will itself be heated and powered by geo climate technology. Hot water emerging from the ground at up to 88°C will be filtered, controlled and managed to replicate differing conditions and levels of humidity in different areas of the project, permitting the growth of produce and vegetation from anywhere in the world. Crucially though, and unlike other 'hot house' projects around the world, ALDIN Biodome will not seek to 'recreate an exotic indoor climate' in Iceland, but will instead work with leading horticulturalists to grow what the geo climate can best support. In this way, ALDIN seeks to offer something unique and local, rather than contrived. 
The vision of ALDIN began with the passion of founder and CEO of Spor í sandinn, Hjördís Sigurðardóttir. In the team are the firms WilkinsonEyre Architects from London in collaboration with Iceland-firm BASALT Architects, along with engineers Atelier One and Ten. Together, these firms designed and delivered the wondrous Singapore Gardens by the Bay. The Visitor Attraction Company has also been appointed as business case consultants, along with local and internationally acclaimed exhibition designers Gagarin, and EFLA Consulting Engineers. Appointed as horticultural experts, MOSS is working to generate a green masterplan that changes the way people experience wellness, sustainability, local food, community and nature. You can read more about our role in this project in our portfolio. 
In a country with long, cold winters and variable weather, ADLIN also aims to give Iceland the one thing that it lacks – a single attraction offering a warm, green and uplifting environment all year round, one that offers exclusive shops, restaurants and bars, markets, exhibitions, tours, healthcare and business facilities, all in one convenient location, under a glazed roof. (6)
Nature is trying very hard to make us succeed. – Buckminster Fuller
We only have Earth, and we're dependent on these systems and processes. And so figuring out a way in which we are able to continue to have those resources and exist in a way that's favourable for us is crucial. Because we share the world with many other species of plants and animals, we must consider the consequences of our actions.
Over the past several decades, increasing human activity has rapidly destroyed or polluted many ecological habitats throughout the world. 
IT IS IMPORTANT TO PRESERVE ALL SORTS OF BIOMES AS EACH HOUSES MANY UNIQUE FORMS OF LIFE. BIODOMES ARE A METHOD OF CONSERVATION, PRESENTATION AND EXPERIENCE!
We have still not been able to create an entire and closed ecosystem that completely reproduces life on earth. We can only conclude that our earth's ecosystem is so complex and intertwined that we as humans can not yet reproduce such a phenomenon. For now we can integrate fragments of nature into our urban lives but with on-going maintenance and care. Will life on other planets be possible in man-made biodomes? Some day!…
Sources:
Zimmer, Carl. "

The Lost History of One of the World's Strangest Science Experiments". The New York Times, 29 March 2019.

https://www.nytimes.com/2019/03/29/sunday-review/biosphere-2-climate-change.html (1)

Sabourin, Diane. "Montréal Biodôme". The Canadian Encyclopedia, 19 March 2015.

https://thecanadianencyclopedia.ca/en/article/the-montreal-biodome (2)

3

. Bellis, Mary. "Plastic Architecture – Building the Biodome." 

https://www.thoughtco.com/plastic-architecture-building-the-biodome-1991334 (3)

Harris, Tom. "How the Eden Project works". 

https://science.howstuffworks.com/environmental/conservation/conservationists/eden1.htm (4)

Bishop, Thomas. "A global leader in sustainability, tourism and geo climate technology". The Pollar connection, 20 Jan. 2019.

http://polarconnection.org/biodome-iceland-geo-climate/ (5)

6. Bishop, Thomas, and Krestia DeGeorge. "How a Ground-Breaking Biodome Being Planned in Iceland Could Change Cities around the World." ArcticToday, 13 Jan. 2020, www.arctictoday.com/how-a-ground-breaking-biodome-being-planned-in-iceland-could-change-cities-around-the-world/. (6)