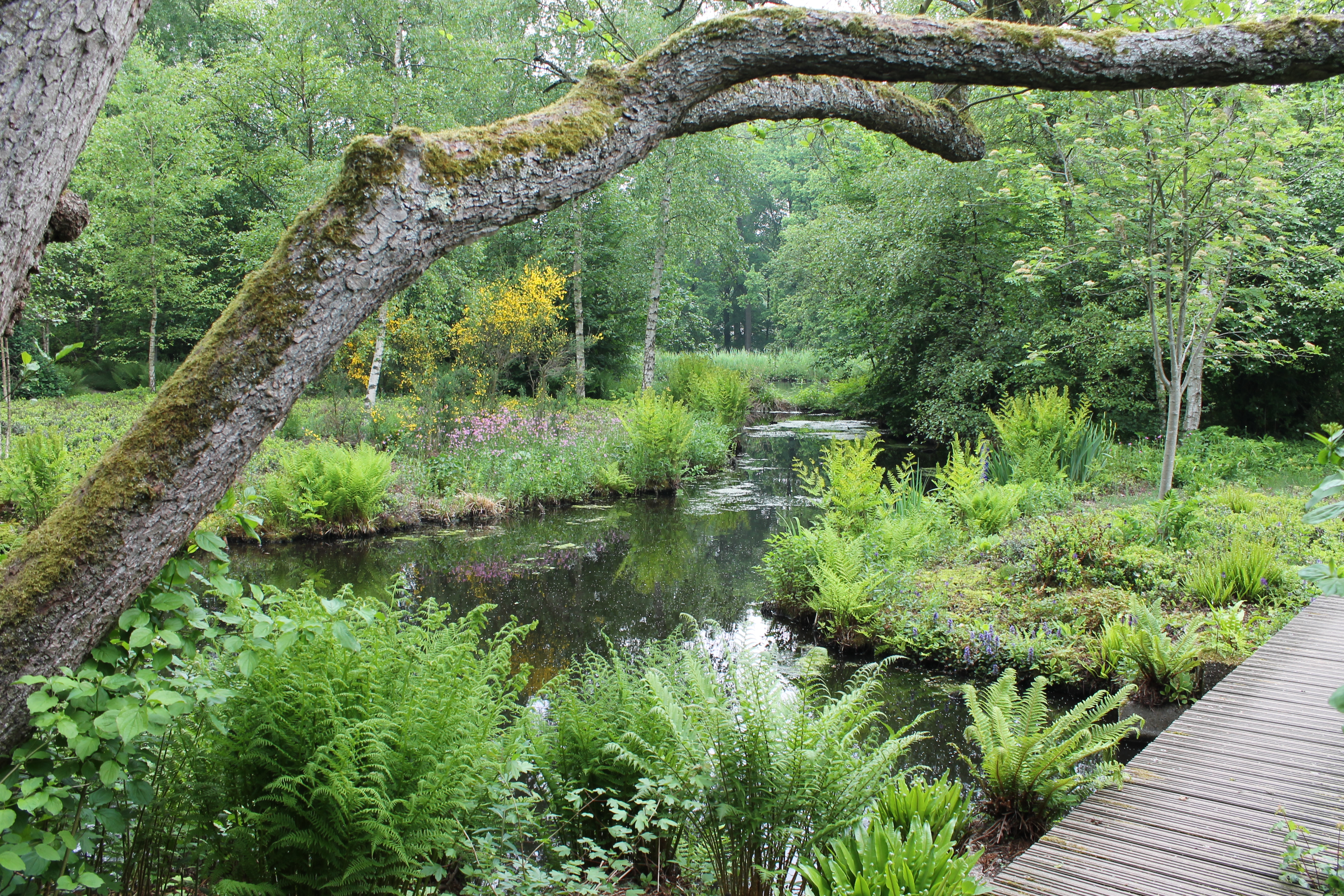 24 Apr

Top 10 Green Spots in Amsterdam : Outdoor

by Kelai Diebel

Here you have it! From the tiny and pristine to the rugged and expansive, here are our favorite green spots in Amsterdam.

We are created for nature. There is abundant and compelling evidence that even small periods of immersion in the natural world have very significant mental – and physical – health benefits. In fact our concentration levels are higher, we're more creative, our blood pressure lowers, and our minds tender to ruminate less on negative thoughts.

All of these benefits are urgently needed by all of us amidst the social deprivation from lock-down, and the deep anxiety generated by the pandemic. Even if some of these urban oases are not yet open, let this post inspire you to appreciate and admire nature more than ever.
DE CEUVEL
Korte Papaverweg 4, 1032 KB Amsterdam, Netherlands
Open every day except Monday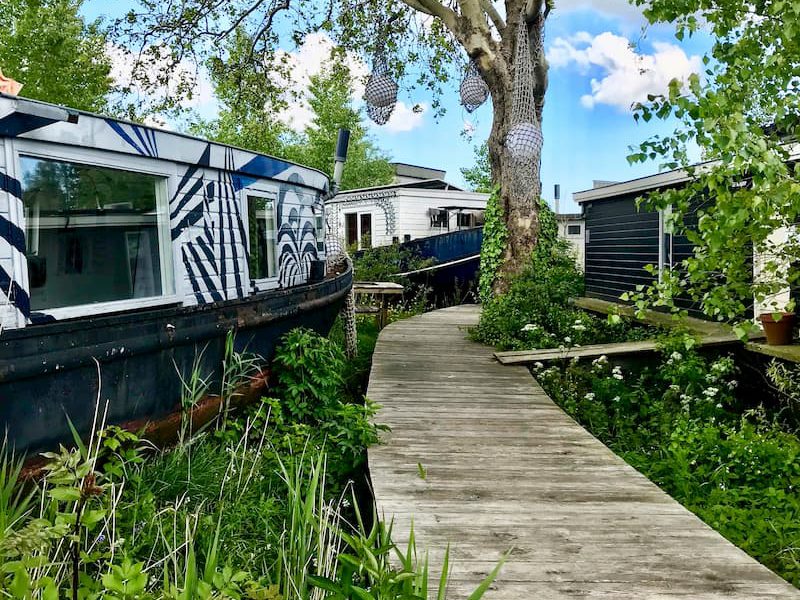 Winding paths through De Ceuvel's Purifying Park. Photo by Kelai Diebel
Set in an old industrial area of Amsterdam Noord, this is one of the most unique and sustainable urban developments of Europe. Over time this site has transformed its poisoned land into a lush, thriving and creative hub for sustainability. To remedy the polluted grounds, De Ceuvel planted a 'forbidden garden' with vegetation known to be especially good at absorbing and purifying pollutants through their roots. This is a simple technique with a complex name: 'phytoremediation'. If you really want to get your hands dirty, you can roll up your sleeves and volunteer with garden maintenance, like the MOSS team did last Spring (and we loved it)!
Stroll through the purifying park on a raised and windy wooden pathway amongst grasses, perennials, mature trees, and shrubs. Undulating through the park you'll find old houseboats recycled into creative entrepreneur offices. Some spontaneous spots in reclaimed fisherman's boats offer a spot to rest and gaze at the diligent landscape. Keep your eyes peeled for the Willows and Foxgloves, these are some of the many plants hard at work in scrubbing the soil. Turning an otherwise hidden approach to pollution into a marvelous garden, De Ceuvel has created a brownfield into a welcoming innovative sustainability park.
GAPP ROOFTOP BAR
Eerste Ringdijkstraat 4, 1097 BC Amsterdam, Netherlands
Only open when the sun is shining

We all love culinary herbs on the GAPP Rooftop. Photo by Kelai Diebel
When the sun is out, head over the Casa 400 hotel and take the elevator to the 8th floor to catch great city views in a buzzing garden. In 2016 MOSS transformed this gravel roof into a green lounge. Along the perimeter of the roof is a biodiversity garden made especially for the cities' local fauna, but in the lounge you'll find many herbs and veggies like fennel, beetroot, mint, and sorrel grown here especially for snacks and cocktails. Come up here to soak in the view, be surrounded by plants and have a refreshment while escaping the commotion of the city.
NATUURTUIN SLATUINEN 
Slatuinenweg 45, 1057 KB Amsterdam, Netherlands
Opening Hours : Every Sunday 13.00 – 16.00; April to September : Thursday 9:00 – 17.00; October to March : Thursday – 10.00 – 16.00
Ready for a quiet and secret oasis? Beyond a non discrete doorway in Amsterdam-West lies a hidden paradise with all sorts of birds and plants. A narrow path winds between the houses to a lush marsh, forest, grassland, and pond. This a true "natural garden," where rather than meticulous trimming, this plot is maintained by one permanent worker and 5 volunteers to the principles of ecological landscaping to ensure species diversity.
The sounds of the city do not reach this garden, rather it's the chirping of birds that you'll hear. In fact, 17 birds have breeding nests in the garden, while 6 other unique species have been spotted as visitors. Also breeding and hanging out here are other creatures such as insects and small mammals. The garden mainly contains of native and Stinse plant species, such as the Cranesbill, Deadman's Finger, Yellow Monkshood, Spotted Lungwort, Purple-leaved Golden Veil and Spring Bellflower.

Secret oasis at the Natuurtuinen. Photo by Kelai Diebel

TUINEN VAN WEST
Tom Schreursweg 40, 1067 HR Amsterdam, Netherlands
Tuinen van West is an adventurous 700 hectare multifunctional green city escape at the edge of Amsterdam. Here you will find a remote place of silence and nature, farming, harvesting, and gardening, yet all so close to the city. There is even a 12.9 kilometer loop trail along a river near Halfweg and is a great walk for bird watching or road biking.
Be sure to check out the biodynamic orchard where you can pick fruits and even collect eggs of roaming chickens. When you're ready to kick back, head to Cantina Nieuw West for hammock and beanbag chilling. Whether it is a sweet little 'outside place', a healthy vegetable garden full of vitamins or the beautiful flowers : there is a lot of green going on here!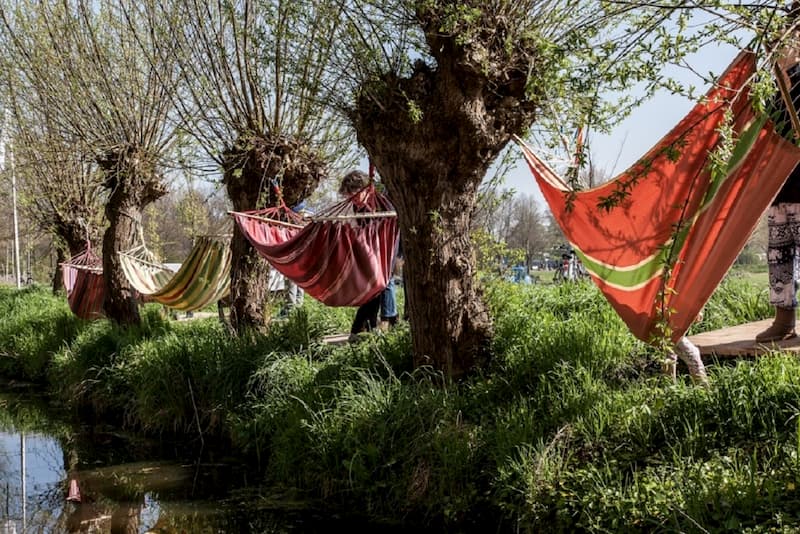 Laid back on the land at Tuinen van West's Cantina. Photo by Hetrijkvandekeizer

CROMHOUTHUIS COURTYARD
Herengracht 366-368, 1016 CH Amsterdam, Netherlands

Wander through Amsterdam's Golden Age in Cromhouthuis' quaint courtyard. Image @ Nouveau
Set behind a row of majestic houses of Amsterdam's Golden Age and just a stone's throw away from the hustle and bustle of the 9-streets district, this courtyard garden really is peaceful. Like most gardens of the Golden Age, this design is tightly geometric and is ordered to symmetry. To get to the garden you'll need to walk through the 17th-century canal house which is now the Cromhouthuis Museum. Wooden paths and gravel podiums are centered amongst a small pond with water lilies and grasses. The mix of historical arts and crafts in combination with flowers, hedges and other decorative garden elements brings the Golden Age to you on any pleasant day.
ZOKU ROOFTOP
Weesperstraat 105, 1018 VN Amsterdam, Netherlands
At Zoku, normal activities get a new twist. For example, the reception of this hotel is on the rooftop! So when guests arrive, they ascend to the roof to walk through a greenhouse corridor on the way to check-in. In the tropical glass hall, MOSS and Concrete Architecten designed space for cacti, palms, and birds of paradise overlooking an accessible rooftop garden with herbs, fruits, and vegetables growing. You can spend a lazy afternoon here relaxing in green and bright spaces both indoors and out! If you're lucky, you'll even snatch a spot in one of the hammocks.

Hammocks and herbs at Zoku's Roof. Image by Zoku
PARK DE OEVERLANDEN
Anton Schleperspad 10, 1066 BT Amsterdam, Netherlands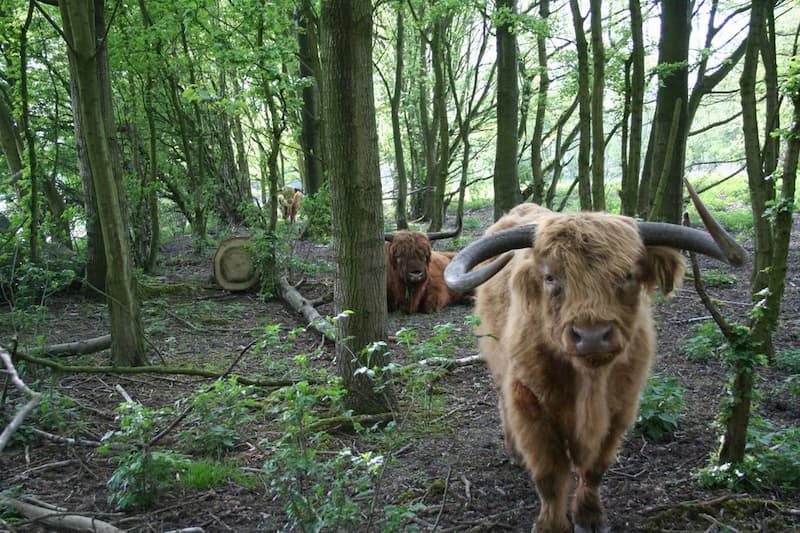 Scottish Hilanders roaming de Oeverlanden Park. Image @ Mapio
What makes a park? Is it the wide open spaces, the trees and the birds? Or is it recreation, urban garden allotments, barbecue, and sunbathing? Do you need space to run or cycle? At De Oeverlanden you have it all! The Nieuwe Meer lake is also perfect for swimming. If you're feeling up to it, hop on the ferry from Paviljoen Aquarius to the Amsterdamse Bos, which goes without saying, is also one of our favorite green spots in town!
Now De Oeverlanden stretches over 50 hectares with more than 600 plant species and a thousand species of beetles and bugs. 40 species of birds and even herds of Scottish highlander cows can call this zone of wilderness home. Keep your eyes peeled for the nightingale, a popular breeding bird; but also the kingfisher, buzzard, green woodpecker, wareral, woodcock, cuckoo and great egret are also regularly seen here. The long-eared owl and barn owl have also been observed.
CIRCL ROOFTOP
Gustav Mahlerplein 1B, 1082 MS Amsterdam, Netherlands

Spring flowers in the spotlight at the CIRCL rooftop. Photo by Kelai Diebel
Green roofs make the world bigger. When you think about it, this is where we can give land back to nature. Green roofs are habitats for biodiversity, and while graciously hosting native flora and fauna, they also absorb sound, filter dust from the air, and store water. Green roofs are not only pleasant to look at, but they also help save energy costs as the vegetative layers provide insulation for buildings.
Walk up the stairs along the pavilion to reach this 100% circular and public roof garden in the heart of Amsterdam's business district. Habitat loss and pesticide use in both city and suburb alike is causing a decline in bee, bird and butterfly communities, but you'll see how these vital creatures have a refuge up here! By combining evergreen shrubs, deciduous trees and many varieties of perennial flowers and grasses, this rooftop offers year round beauty. Plenty of solid wood benches of local timber offer you a nice resting place in the gardens. As you rest there and gaze at the garden, feel even more at ease because all of this design is made with utmost principles of sustainability and circularity in particular.
TWISKE WATERLAND
De Noorderlaaik 1, 1511 BX Oostzaan, Netherlands
Cross the river IJ and escape the city bustle for a while. Although Twiske is not technically in Amsterdam, it's an ideal place for a nature day since you can reach this 650-hectare protected nature reserve with only a 15-minute bike ride from the Buiksloterweg Ferry. Thanks to the abundance of water, many marsh species like the waterfowl, bittern, shoveler, bearded male, and wigeon are found here. It's really an ornithologist's dream. In the meadows around the water are also roaming Scottish highlander cows, foxes, and ermines. 
There is a 15km route for walking and since ⅓ of the park is water, there are plenty of places for swimming, diving and even surfing. Nature lovers will especially love the quieter areas, but if seclusion is what you're seeking, check the agenda because sometimes dance festivals take place here.

1/3 of Twiske's 650-hectare protected nature reserve is water! Photo by Anna de Groot
J.P. THIJSSE PARK
Prins Bernhardlaan, 1182 BE Amstelveen, Netherlands
Open All year. Dawn to dusk.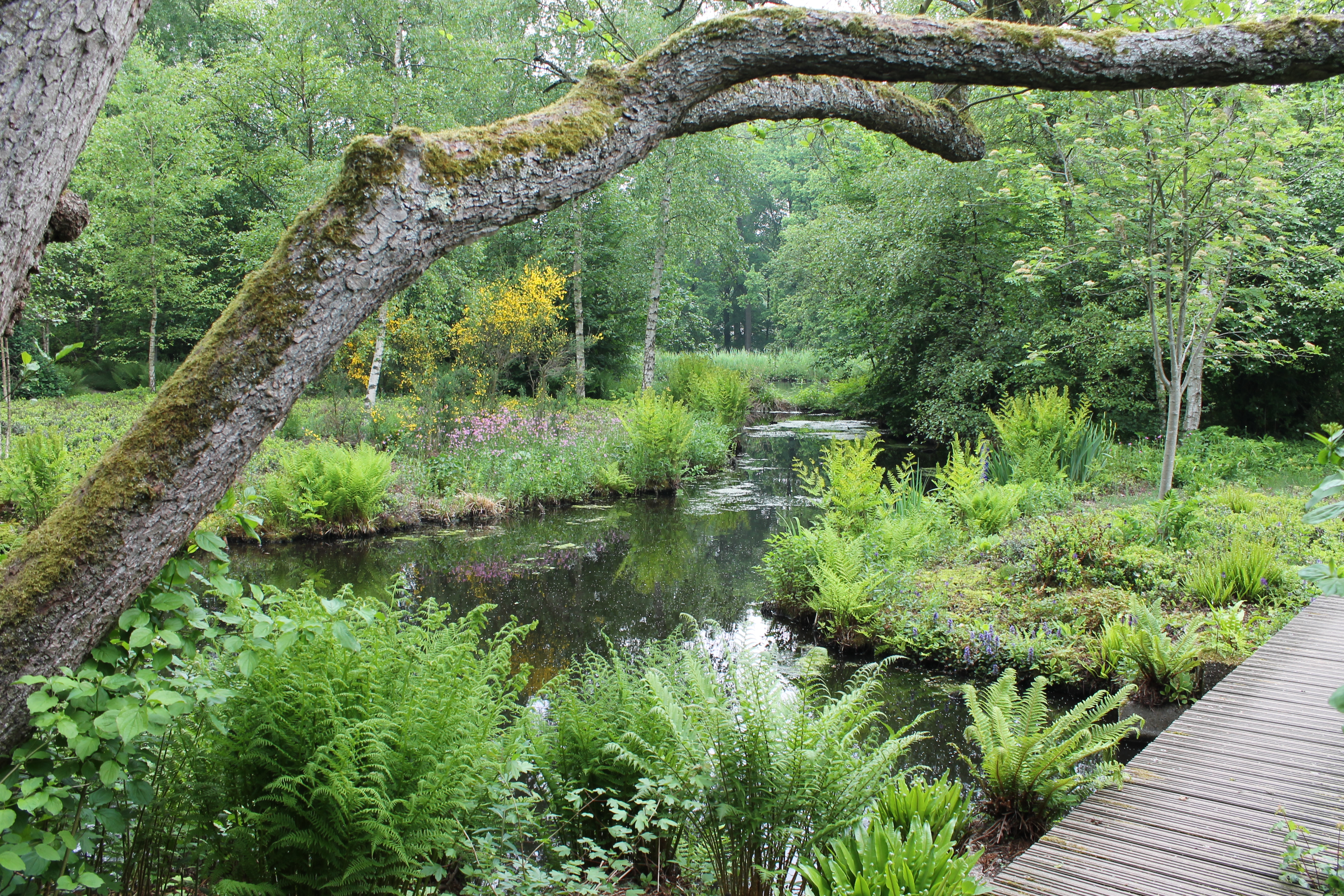 The J.P. Thijssepark connects to the heemparken De Braak and the Dr. Koos Landwehrpark, all three are National Monuments since 2011. Photo @ Hortipoint
For a 2km long and 50m wide plot, this park is a sublime testament to the principles of wildflower meadows, native planting and ecological sustainability. Thissje was an ecologist, a botanist and an adviser on the development of the Amsterdam Bos, and so this park is designed on account of his pioneering use of wild flowers. Actually, he inspired the original idea of  heemparken (habitat parks) or enclosed landscapes of native wild flora and fauna.
Here you can stroll along footpaths and little bridges to gaze over bountiful native plants. The richness of native plant species in the park is thanks intensive maintenance by highly skilled gardeners to steer the natural process of succession, an integral part of all heemparken. The J.P. Thijsse Park is a hidden gem that many Amsterdamer's haven't heard of, yet it's immaculate and subtle grounds are absolutely enchanting!
—
Don't think that these green spots are only attractive to visit in the summertime, because each season exhibit's its own beauty. Now in Spring you'll find all flora and fauna awoken from the Winter; birds are seeking partners to breed and colorful flowers are opening up. During the Autumn, these gardens are magically changing colors, to a mix of brown, orange and red leaves. Winter sees perennial silhouettes and maybe even snow-covered woodlands!
We hope you enjoy Amsterdam's greenery as much as we do! Find more about our own green interventions on our website or are you interested to read more? Check out more on our blog.