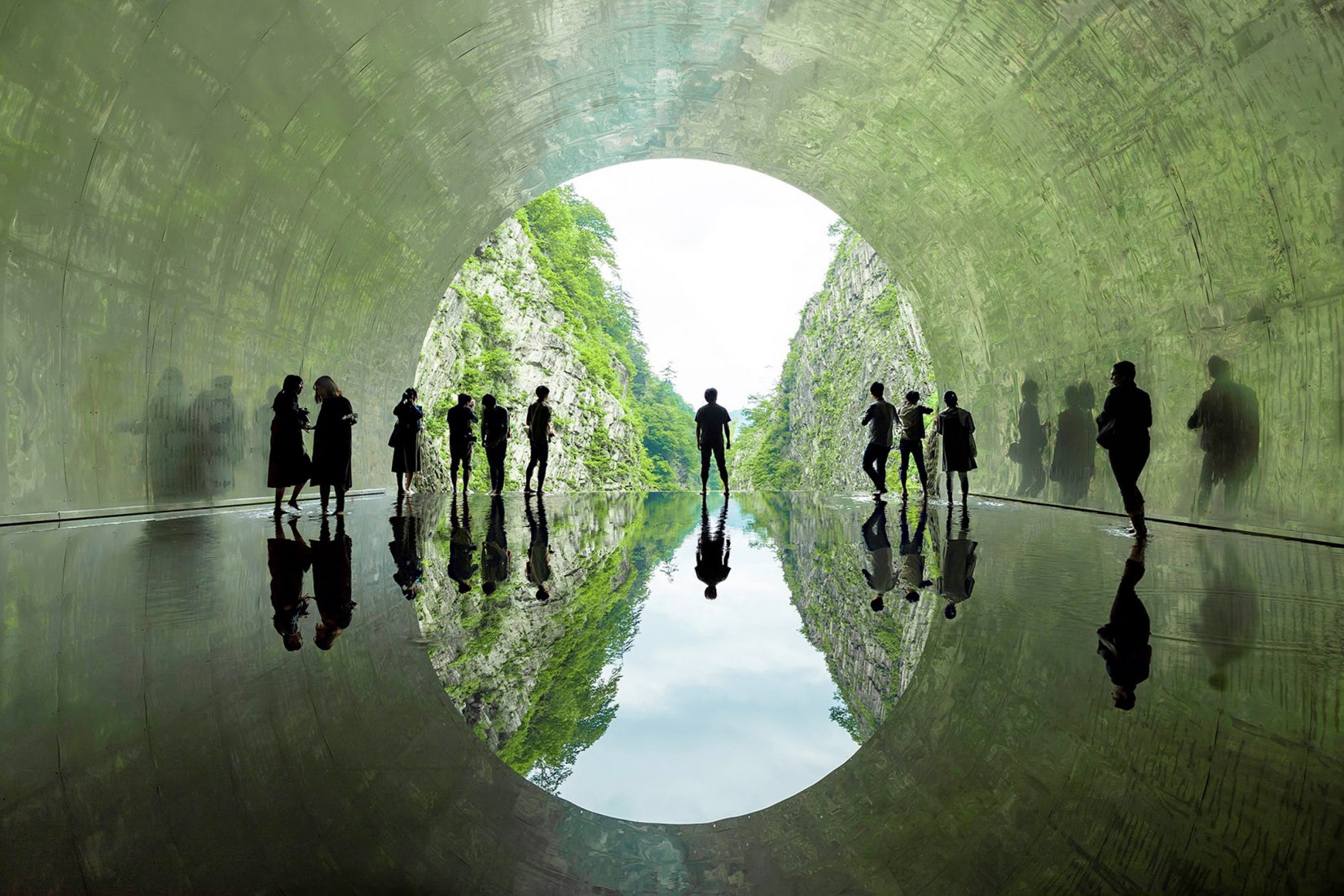 19 Dec

Between Nature and Architecture is Art

by Nina Sickenga

At MOSS (Makers of Sustainable Spaces) we are eager to find ways of reconnecting urbanites with the origin and value of nature as it's meant to be. As we are more and more aware of the downsides of living in dense cities, and we know we must become a part of nature, and live in harmony with the world again. 

We believe in creating indoor and outdoor gardens, or better yet, 'oases' that truly become a part of the built environment. To do so, it is important to challenge ourselves in understanding how to fuse nature into architecture. We are constantly working on developing new ideas and bringing our fantasy of the 'Future Green City' to life (see our last blog post on the optimal future building?).

We strive on creating places where we can live for the coming decades, where we feel happy, where we feel healthy, and which are sustainable. We need to discover and research nature, which in itself has architectural features and is known for it's self-sustaining qualities. How can we use nature's way of building and designing and apply this knowledge in a progressive, sustainable and innovative way?

My colleague, Hanne Sinninghe, recently referred to me an episode of the 'Abstract' Netflix series about Neri Oxman's Bio-Architecture. This episode elicits how we should question the world around us. Oxman describes the 4 stages comprising a progressive and innovative design as:
Art;
Science;
Engineering and;
Design
She explains that "Science converts information into knowledge; Engineering converts knowledge into utility; Design converts utility into cultural behavior and context; and Art takes that context and questions our perception of the world".
At MOSS we incorporate the inspiration we gain from the natural sciences and art into the design of our gardens in order to achieve a sustaining lifespan. Combining these realms encourages us to work in the way of nature, namely, honoring ecosystems.
WHY DO WE TAKE INSPIRATION FROM ART INSTALLATIONS?
As Oxman says, art is a vehicle of expression. With art, statements are made and ideologies can be shown which are otherwise 'impossible'. And you know what? It is time to make a statement! In this blogpost, I would like to take you through the enchanting world of green art installations that my colleagues and myself have fallen in love with.
Art installations are often temporary set-ups that inspire and trigger people to ponder over a particular topic. The installations we have selected here incorporate living green as their main subject and they certainly do inspire us! The approach doesn't start from a building a shelter, but rather from creating an experience. The structure of the building is subordinate, creating unexpected spaces, relationships, and experiences.
The installations we have selected to highlight are not only aesthetic inspiration to us. These works are addressing topics which we also want to convey to the outside world:
Movement of people from rural to urban environments
The loss of indigenous ecosystems
The need for a place to relax
Global nourishment of air and climate
Plants thriving in unexpected environments; testing new growing opportunities
How humans relate to the nature environment
Raised awareness of the importance of green for humanity
Questioning the way we commodify natural phenomena for human consumption
I. COURTESY OF NATURE
Designer : Anouk Vogel and Johan Selbing
Location : Redford Gardens in Quebec
Topic : "The installation invites visitors to reflect upon our relation to nature. Is nature something to cherish? To protect? To tame? To exploit?"
How: 'Courtesy of Nature' frames nature as art. The design is simple, four walls which are framing a piece of nature, but this simplicity has an enormous impact on how we look at nature.
"The local context is not altered, but part of it is temporarily isolated in order to create an indoor vegetal isle evoking an art work. On entering this volume you would logically expect to find yourself indoors. All the more surprising than when that indoors turns out to illustrate a portion of the outdoors. This tranquil space alludes to a museum room where landscape has become interior, it's dimension tamed by architectural means."
II. GALLERY OF REPAIR
Designer: Baracco++Wright Architects
Where: Australian Pavilion, Venice
Topic: The loss of indigenous ecosystems.
"Since the first European settlers arrived in Australia in 1788, nearly 99% of the country's native grasslands have disappeared – a result of both environmental changes and human influence. The pavilion offers a glimpse of the original landscape and is intended as a call to the country to re-envision and repair its relationship with nature." "From the original plant community there is only 1% left, the theme 'repair' gives an insight how we can restore and stimulate cultivating our existing landscapes."
How: 65 endangered grassland species were smuggled into Italy as seedlings, where it took in total eight months to grow them in to maturity within an Italian Greenhouse. In total there were 10.000 plants of the Victorian Western Plains Grasslands placed in round concrete planters within and around the Australian Pavilion. People could meander through the grassland and experience by touching, smelling and looking at them. To keep the landscape in a good shape during the entire biennale linear lights were installed which simulates the energy of the sun.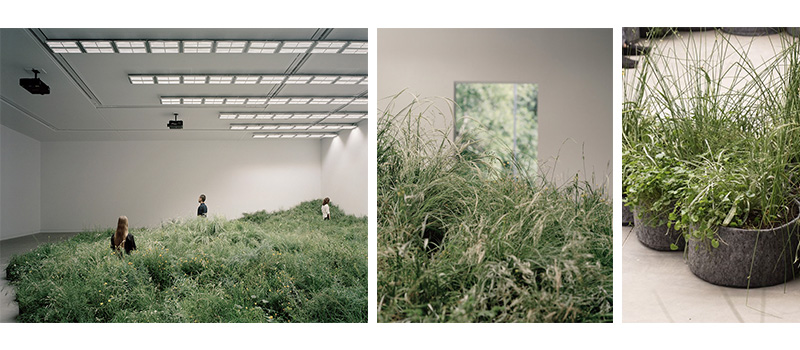 III. KIYOTSU GORGE ' TUNNEL OF LIGHT'
Designer: MAD
Location: Japan
Topic: Movement of people from rural to urban environments
"The installation by MAD Architects as part of the Echigo-Tsumari Art Triennale is an endeavor to tackle Japan's socio-economic and demographic problems. Rural areas in particular are strongly affected by both aging and the decline in population caused by the pull of the big cities."
How: By making use of a water surface the tunnel reflects the landscape, generating an unreal perspective at nature. The mirrors placed on the ceiling are reflecting the light and transforming the entire tunnel into an "infinite illusion of nature". This experience is attracting people to come back to this area and place themselves in an unexpected piece of art.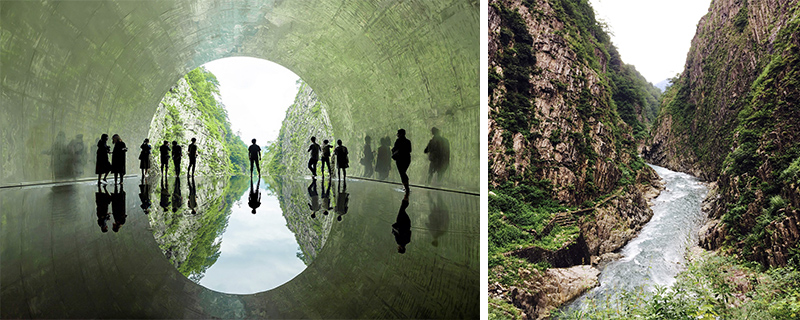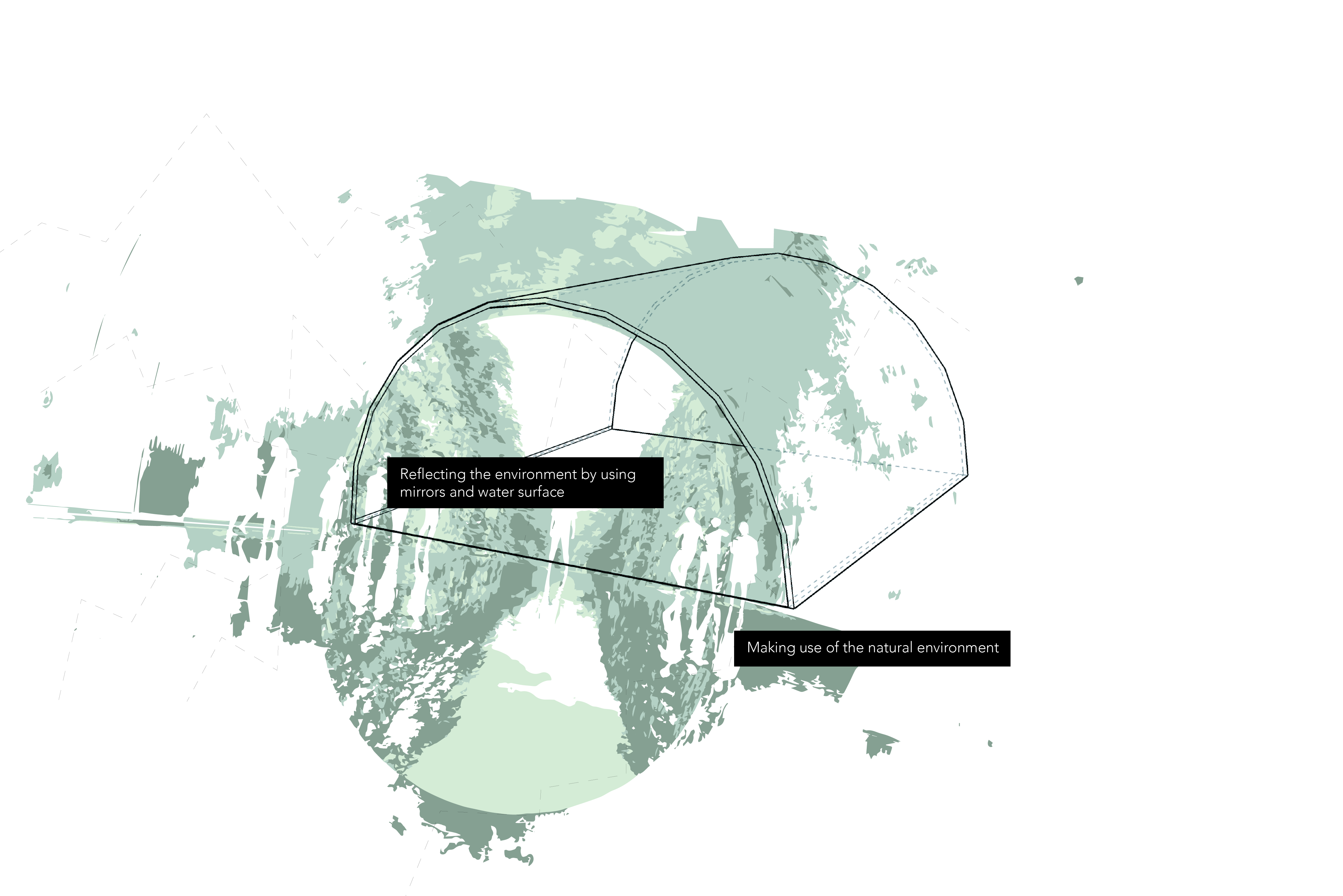 IV. YOURTOPIA
Designer: SeARCH
Location: Netherlands
Topic: The rise in awareness regarding the importance of green for humanity.
"Responding to social issues such as globalization, violation of privacy, and imbalances in the distribution of wealth, Mastenbroek refers to his project as Yourtopia. These developments also force architecture to a fundamental 'reset.' The house will therefore go back to the basics: What is the minimum needed to enjoy a maximum quality of life?"
How: This dome is covered with a grassland, inviting in the surrounded landscape. By entering the cave you are be surprised by a spacious indoor environment made from a steel structure with a span of 14 meters. It is filled with a tropical paradise gaining its light from the circular window of the ceiling. The plants are placed in the actual soil of the landscape and not placed in an artificial planter.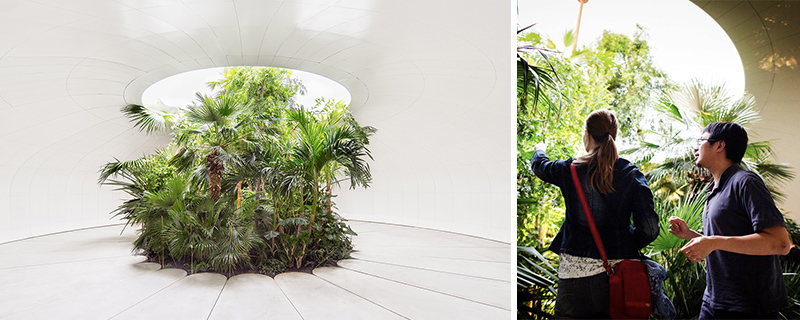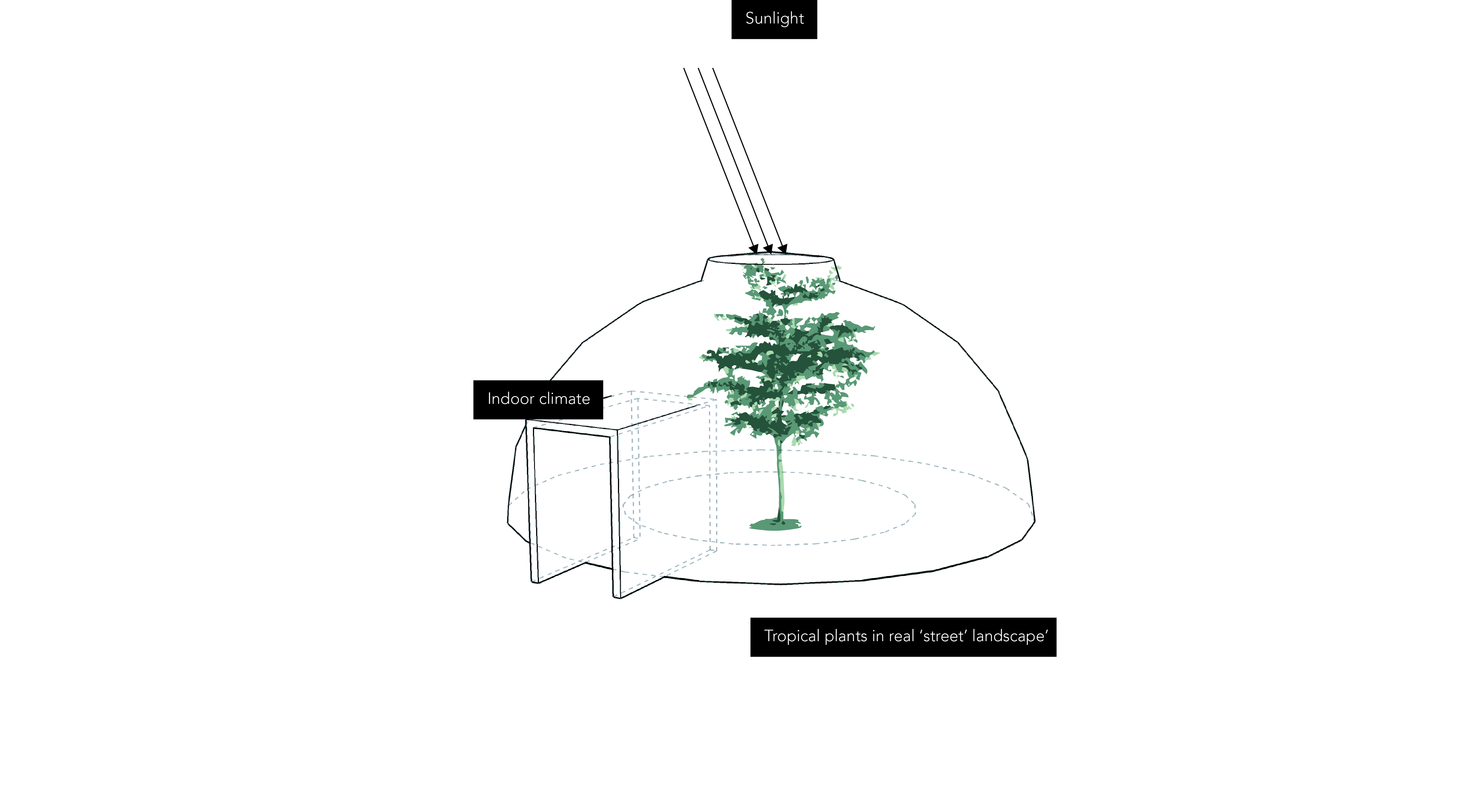 LESSONS
By manifesting green in surprising and renewing ways, people are able to respect and look to nature in a new light. It is important for people to interact with green. Experiencing nature through sight, scent, and touch is a fun way to better understand and value these pressing world themes.
Today's challenge is to bring nature to civilization on a scale that correlates to the speed of global urbanization. We need to repair and honor green zones while letting nature flourish with the same momentum of urbanism, so by looking to science and art we find new and grounded tactics.

"Choose only one master – Nature."
Rembrandt
---
http://www.internationalgardenfestival.com/Courtesy-of-Nature/?y=2019
https://www.archdaily.com/895631/repair-australian-pavilion-at-the-venice-biennale-2018
http://www.i-mad.com/press/mad-kiyotsu-gorge-tunnel-of-light-2018-echigo-tsumari-triennale/
https://www.designboom.com/architecture/domed-grass-pavilion-search-rotterdam-rainforest-07-11-2014/