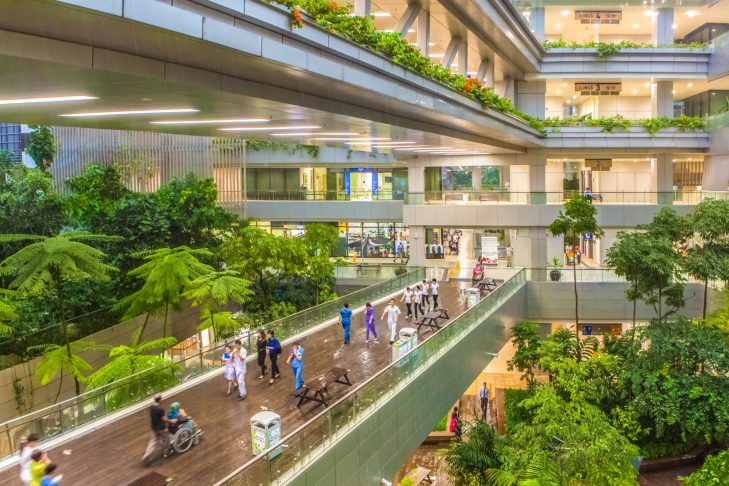 22 May

Nature's Cure : Healing Power

by Kelai Diebel

We've explored in our last posts how plants can clean the air, energize a workplace, and also create an exceptional environment for dining and meeting. If you've made it this far, your affinity for green may be as big as ours, but did you ever wonder about the ability green has to cure?

"…the enjoyment of scenery employs the mind without fatigue and yet exercises it, tranquilizes it and yet enlivens it; and thus, through the influence of the mind over the body, gives the effect of refreshing rest and reinvigoration to the whole system." (Olmsted, 1865)
BEFORE WE GET TOO FAR AHEAD, WHAT IS BIOPHILIA?
Biophilia is simply human's biological connection to nature. In biophilic design, designers seek to boost this connection in order to capitalize on the physical, psychological and physiological health benefits brought about by re-linking ourselves to nature.
The human binding to biophilia is supposedly the result of evolution in an ecosystemic world. In other words, the idea that biophilia is present in our gene pool is hence due to our reliance on nature to survive. Not surprisingly, Charles Darwin was one of the first to work out these theories. No matter the fact that most of us live in structures of concrete and steel nowadays, we still have an innate affiliation with life-like elements.
There is extensive literature which reports consistently on how green elements (e.g., trees, flowers, and plants) and natural environments are able elicit positive, stress-reducing and restorative responses in humans. Notably, a study of Ulrich in 1984 studied the different responses of patients in a hospital which had similar conditions but with different views. The findings reported that those with a view of trees stayed for a shorter time in the hospital, had fewer negative reactions about their conditions, and took less painkillers than patients whose view faced a brick wall.
THE HEALING POWER OF NATURE
Stress is a major factor in impeding the body's healing processes and recovery time. 70-90% percent of all illness is caused or worsened by stress, and so a key turning point in any cure is to get stress under control. With this is mind, the extent of bringing nature into hospitals and care facilities is of significant importance, since statistically speaking, blending biophilia within hospitals has reduced recovery by 8.5% and the use of pain medication by 22%.4 (Heath, 2019).
There are numerous ways to implement biophilia design into healthcare, including these basic principles of biophilic design: visual connection with nature, natural shapes and forms, natural patterns, green immersion areas, green public areas, green installations, and other designs that leverage the varying intensities of light and shadow changing overtime, imitating the conditions that occur in nature.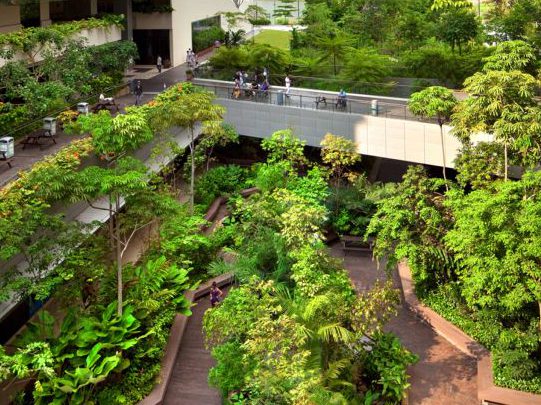 HOSPITAL IN A GARDEN, GARDEN IN A HOSPITAL
One hospital in Singapore is setting the stage for biophilic healthcare. In 2010 the LEAF-Certified, Khoo Teck Puat Hospital (KTPH) opened their public healing environment that connects people to nature to enhance health and wellbeing.
KTPH is spread over 3 blocks linked to a central and verdant courtyard with 110,000 m2 in total. There are 8 roof gardens, corridor planters throughout all buildings, and 81 balconies with planter boxes. These elements exemplify the "hospital in a garden, garden in a hospital" concept.
At the first phases of planning, the project managers of KTPH actually specified to the designers at CPG that they wanted "a place that makes your blood pressure and heart rate go down". By bringing green into the heart of the building, CPG was able to create the sense of spaciousness and comfort in the areas all throughout.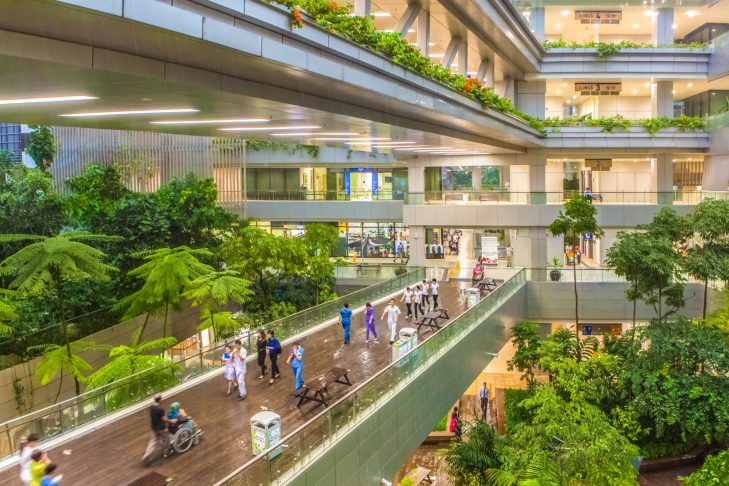 Primarily indigenous trees and plants were incorporated to benefit not just the patients, but also the flora and fauna of the region. At the start of the project, only 3 butterflies were identified in the area, now they've remarked 35. 192 fish and over a 100 species of birds are also found here now.
Each roof garden is designed with specific plant attributes to soothe and rejuvenate. Patient programs are even linked, in some instances, directly to programs in the gardens. Carefully designed paths let the patients weave safely though the terraces, exploring niches and alcoves, while different theme for citrus, herbs, and scented gardens keep the terraces engaging and educational.
STRENGTH IN PLANTS
Singapore offers many valuable lessons for cities around the world. There is already more than 100ha of high-rise greenery throughout the island, and the target is to double this number by 2030. At MOSS our goal is to mimic and bring nature into built environments. We employ both creative and technical tools to incorporate green in the spaces people inhabit most. Looking around the world, we admire projects such as the KTPH that are also working the green up our urban world. There is strength in numbers, and those numbers come in plants.
Image Source: TODAY